Graham Reid | | 3 min read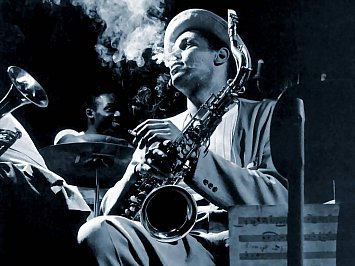 In one iconic photo by Herman Leonard taken in New York in 1948, the cool of Dexter Gordon -- his cigarette smoke coiling up above him -- came to symbolise and codify the image of jazz for many.
At that time Gordon was in his mid 20s and his tenor playing had already been heard in Lionel Hampton's band but more recently when he was playing and recording alongside Charlie Parker whose bebop sound had revolutionised the music, and admittedly left some of jazz's audience behind.
Gordon -- two metres tall without his hat -- was a literal giant on the bandstand and his style was assured, hard (but not often as tough as some) and strongly melodic. His ballads were a model of thoughtfulness and he liked to throw in quotes from other tunes then shapeshift them.
After Parker's death in 1955 it seemed like Gordon would be the man to pick up his mantle but a couple of prison terms for drug possession effectively sidelined him for a bit in the late Fifties.
When he entered the Sixties he signed with Blue Note and his first album for the label was appropriately titled Doin' Allright in '61. And he was. It's a classic Gordon album and you can hear the influence of Coltrane, although there's a case to be made that Gordon had earlier been the influence on Trane.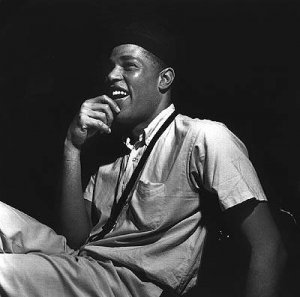 At this time Gordon was very productive as if to make up for time lost -- the Dexter Calling album had been recorded just days after the Doin' Allright sessions and shares that album's confidence.
His Go! album (written without the exclamation mark on the Reid Miles-designed front cover or spine but it's there on the back) was recorded in August '62 and out of the same sessions at Rudi Van Gelder's studio two days later he also got the A Swingin' Affair album, also released that year.
Although not quite as sprightly as Doin' Allright, the Go! album is a very fine entry in his lengthy career (he died in 1990) and also a decent entry point for those who are feeling their way into this kind of jazz.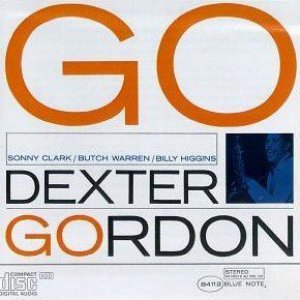 Gordon has a fine band with him -- pianist Sonny Clark, bassist Butch Warren and drummer Billy Higgins -- and although some critics have said Gordon often sounded better when challenged by another horn player, here he really takes flight on material like the Styne-Cahn ballad I Guess I'll Hang My Tears Out to Dry and the lovely Where Are You?
And Go! also has him on one of his favourite pieces, Cole Porter's Love for Sale which is real tour de force of driving playing, and his emotional and musical directness. And he tosses in a phrase from the Mexican Hat Dance then almost immediately twists it out of shape and is gone from it.
Gordon didn't get as gone as some bebop players, but after Go! he was.
In the original liner notes Ira Gitler noted that Gordon was only intermittently in New York as he had spent time in California and would regularly play in Boston, Cape Cod and Rochester . . . and that he was shortly to go to England and Europe.
It was in fact a long time -- 15 years -- before Gordon would come back permanently from Europe where he lived in Paris (as seen in the '86 film Round Midnight which is quasi-biographical) and Copenhagen.
Europe accorded Gordon the kind of respect he deserved but he had also left behind in America the album Go! which he always considered his favourite album ("a classic" he told Bob Blumenthal in the late Seventies).
That might be overstating it just a little, but Go! -- with its ballads, swinging tunes and fierce soloing on the harder tunes -- is certainly a Dexter Gordon album that should be in any decent jazz collection.

Dexter Gordon's Go! is one of the new batch of albums currently reissued on 180gm vinyl in the Bue Note Classic Vinyl reissue series. You can find the album at Southbound Records, Auckland. Online here.
For more on Blue Note artists old and new -- and which includes articles on the label's history, artwork and some of the vinyl reissue albums look here.