Graham Reid | | 1 min read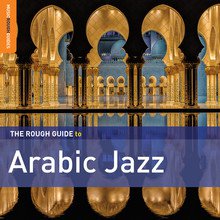 Here's a double disc -- a customary, intelligently compiled Rough Guide collection plus a bonus disc -- which might just as easily have been filed under our extensive World Music pages.
But yes, this is bona fide jazz with an Arabic twist where the exotically beautiful oud and earthy wind instruments share space with rounded Western trumpet tones, grounded acoustic bass and drummers bringing their own cultural take on rhythmic patterns.
There's even a bit of downbeat ambient electronica and oud from Turkish/Egyptian Omar Faruk Tekbilek who lives in the States, and Lebanese singer Rima Khcheich offers the very seductive, humid 2am sound of Harrama el-Nawma.
And if you want a retro-trip it's here on the chintzy Abou Afif by Ahmad Kaabour who clearly should have been given the job contributing to a Seventies James Bond film set in Beirut. Or maybe an Austin Powers flick.
Perhaps only one name is familiar, Le Trio Joubran who have long been Elsewhere favourites for the coiling melodies and melodrama they pull from their ouds. But on the basis of his gently teased out Sinai here, Renaud Garcia-Fons might just be Our New Favourite Oud Player.
And the slippery Tigris Eye by Daramad comes to us courtesy of bellydance (this is not a criticism if you followed Elsewhere's respect for that tradition) and a group which has Persians and Australians in its line-up. It's very good and, I have to say, sounds annoyingly familiar but I can't place it. (I'm actually thinking Karuna Supreme by John Handy and Ali Akbar Khan).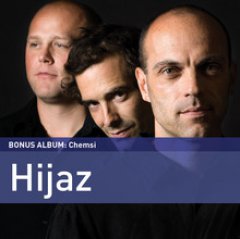 The bonus disc is Chemsi by Hijaz, an Arabic fusion band (without the searing more-notes-than-you guitarist) where Belgium-based pianist Niko Deman joins forces (gently) with oud player Moufadhel Adhoum and a flexible rhythm section which happily work the axis between Berklee and Morocco.
It's interesting enough . . . but not among the best of the bonus discs these smart Rough Guide double discs have offered.
That said, if you'd rather have less of the "world music" and more of the "jazz", then this disc will definitely appeal. Deman is a damn fine pianist and this is classically-framed quartet jazz, with oud instead of trumper/sax/what have you.