Graham Reid | | <1 min read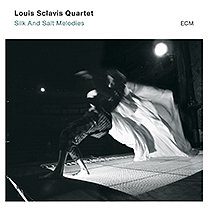 By any measure this is an unusual album from French clarinettist Sclavis with guitarist Gilles Coronado and keyboard player Benjamin Moussay (who worked together previously as the Atlas Trio).
Part jazz-improv, some pieces which seem more like fragments from soundtracks, and melodies which are firmly from the "world music" camp, this makes for a slightly scattershot experience.
Joined by Turkish percussion player Keyvan Chemirani, Sclavis and pals explore the sounds of the Middle East and western Asia . . . but while you can admire the boundary-ignoring nature of much here, many of the pieces sound unresolved or leave ideas hanging which deserved further exploration.
Coronado brings something of a shimmer'n'steel sound in places (fans of Bill Frisell and even mid-period Pat Metheny will get the reference), but the more free pieces (Dance for Horses) feel constrained.
Sclavis has indicated the conceptual core of this is the idea of travel (the silk road and salt routes presumably) . . . but that coherence is rarely evident.
So an odd one not without interest, but it rather does feel like the one that got away.