Graham Reid | | 1 min read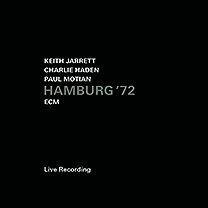 The death this year of the great bassist/composer Charlie Haden robbed the world -- and not just the jazz world -- of one of the great artists of our time.
It would take far too long here to go into the musical diversity he embraced (from Ornette Coleman to American country music), the plethora of artists he performed with (great jazz musicians to Yoko Ono and Ringo Starr), his political position (he wrote Song for Che) and so on.
But there is no doubt his career reached a particular apotheosis in this trio with pianist Keith Jarrett and drummer Paul Motian (which became Jarrett's American Quartet with the addition of Coleman alumni Dewey Redman).
This trio came together in '66 (Jarrett had only recorded two albums for ECM at the time), this concert was for German radio in '72 recorded during the trio's first European tour and ECM founder/producer Manfred Eicher started work on mixing the tapes -- by chance -- the day after Haden's death.
Among the many interesting aspects of this session is the only recording of Song For Che by Jarrett, and his composition Piece for Ornette. This was the period where Jarrett was exploring other instruments (here he plays flute, soprano sax and percussion) and that's perhaps the least appealing aspect of this: Piece for Ornette is well intentioned but he's not the most vigorous sax player and that was certainly required for this.
There's no real bite in his tone.
Everything That Lives Laments is a bit hard to take for its frequently shapeless flute playing but the 15 minute exploration of Song For Che is very good because Jarrett brings a yearning and slightly discordant tone on sax.
So you'd conclude this is somethng of a mixed bag, but when it's good it is very good indeed, but they tend to be passages rather than complete pieces.
The late Charlie Haden was heard -- with Jarrett or in other bands -- in better contexts, and the recently released Last Dance with Jarrett (released two days after his death) is a better place to start.