Graham Reid | | 2 min read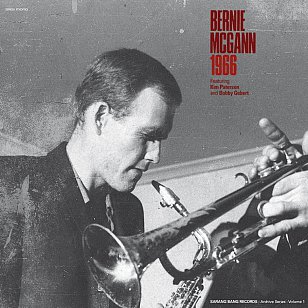 Because there is a surprising paucity of readily available music by the great Australian jazz saxophonist Bernie McGann -- who died in September 2013 aged 76 -- this is an especially gratifying release.
In glorious mono on vinyl (housed in a good solid stock sleeve) this album is created from two, previously unissued, live sessions in Sydney. And these five pieces capture a rare moment in time when in McGann's band were two New Zealanders, the late bassist Andy Brown and trumpeter Kim Paterson, both of whom had been in McGann's band when he'd lived in New Zealand two years previous.
This was the perioid when the post-bop music from the US in the form of Charles Mingus, Eric Dolphy and Ornette Coleman -- whose When Will the Blues Leave? gets a swinging and sometimes bristling 13 minute treatment here -- was presenting a challenge and these young musicians (McGann only 30, Brown a little younger, Paterson in his early 20s) were rising to it.
This 1966 album appears to be subtitled "Bernie McGann and the Australian Jazz Avant Garde" on the insert sheet, which includes reminiscences by Paterson and drummer George Neidorf, as well as some interesting period-snippets from the magazine Australian Music Maker. One of them notes the Australian Wool Board had sponsored a two-day exhibition in the Drama Hall of the Sydney Opera House and McGann, who performed there, became the first jazz musician to play inside that iconic building. Paterson and Brown were in the band.
So the core of this band (McGann, Brown, Paterson) knew each other well at the time of these appearances and -- for the three pieces on the first side of the album -- they were joined by pianist Bobby Gebert who nails down a beautifully peculiar solo in McGann's Lazy Days which seems to refer to cool swing (on a clinking whore-house keyboard) then eases into sophistication and finger-snap bop before bassist Brown enters with a simple but emotionally deep solo sequence.
Drummer Neidorf (on both sides here) frequently sounds inspired in this music as he drops angular patterns into Monk's Rhythm-A-Ning behind Paterson's furious but melodic trumpet and McGann's muscular alto.
Gebert is a fine songwriter too and his Sky -- which revolves around a head like some strange film-noir evocation - allows bassist Brown to hold down a powerful bottom end while he comps with unexpected chord punctuations behind McGann who channels the spirit of the avant-garde in a melodic line which is gloriously unpredictable but never loses sight of the energetic progression. It shouts and embodies the unconstrained spirit of '66.
This album -- a proper album of the old style -- may lack a little something in the sonics (the first side comes from a cassette recording of Paterson's, the second from tapes in the Wayside Chapel in King's Cross) but producer Gianmarco Liguori has done an astonishing job in bringing out the best from the largely decayed sources. The result is this has the kind of raw realism so often lacking in more slick, contemporary jazz recordings.
You feel like you're there for this vigorous and vital music, and there can be few greater compliments than that.
And we should also note this is album is announced as Volume 1 in the Sarang Bang Record's Archive Series.
That is exciting: almost as exciting as McGann and Paterson tearing into Gebert's explosive Chuggin'.
This an important album: historically, in McGann's spare portfolio of available recordings and for New Zealand jazz's own archives . . . because we get a glimpse of two of our own musicians who were and are cornerstones of our jazz history.
Sarang Bang are doing God's work in this wicked and indifferent world.
Bernie McGann, 1966 is available from Sarang Bang Records here.
For more on Sarag Bang's recordings reviewed at Elsewhere go here.