Graham Reid | | 2 min read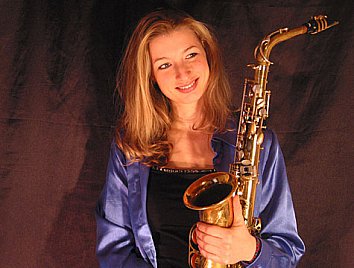 Visiting German saxophonist Nicole Johaenntgen – whose website shows her playing with Thai folk musicians, a rapper, improvising on the Beatles' Come Together and with her pianist brother Stefan deploying loops and unusual soundbeds in their own band – clearly doesn't have time for narrow-minded jazz purists.
"I want that diversity. I know a lot of musicians concentrate on one thing and I really appreciate that because I cannot do it. I need the colours in the music.
"These [purist] people think about music as intellectual," she laughs. Then, weighing her words carefully, offers her perspective.
"Music should touch and move something in yourself, for me as a musician . . . and then also for the listener. If somebody comes to my concert it is like a circle; one part of it is the music and if I am happy with the musicians I get a flow. That's the most important thing. If I get a flow the people also get a flow, it is like the secret lore.
"If we have fun the people will also have fun.
"If you call it 'intellectual music' or 'banana' or 'apple' or whatever . . . Well, I'm not a person who wants to name it. Music is music and it should touch people somehow.
"We have very colourful music and there is something for everyone in that circle."
Johaenntgen – who plays the Waiheke Jazz festival over Easter – currently lives in Switzerland, is widely travelled, has won numerous awards and scholarships, works with young jazz students and met Waiheke festival organiser John Quigley last year at a festival in Norway. He invited her to New Zealand after seeing her play.
"I said, 'Of course, it's just beside Germany'. But I believed we could work it out. And it worked out."
Johaenntgen grew up in the tiny German town of Fischbach (population 6000) southwest of Frankfurt, and just up the road from Frankenstein. Her father, who worked with handicapped people, played trombone and guitar ("only as a hobby") but her turning point – after learning piano – came when she saw a saxophonist on television.
"I grew up with rock'n'roll, commercial pop and jazz standards and because I played piano I have a great love of classical music. Later I founded my own band with my brother which still exists, it's called Nicole JO, and my background seems very colourful.
"I started piano at 10, and was 12 or 13 when I started saxophone. But that was my wish, nobody told me to the play the piano or saxophone. I just wanted to do that.
"I wanted to play saxophone because this person on television had an energy around her and I was fascinated by the music, the instrument and that energy.
"She was very intense and I thought I wanted to do that."
For her concerts on Waiheke she is being backed by the young German band Solid Brew (a highlight of last year's Waiheke festival) and tells me – her barely two hours off a flight from Switzerland – she has just met them for the first time.
"But that's the nature of jazz, to come together and play.
"You know, many of my friends at home have regular jobs where they go in the morning and come back in the evening and forget whatever it was they did on the job.
"But if you are an artist who loves something you need a passion for it. This isn't for me a job but a passion."