Graham Reid | | <1 min read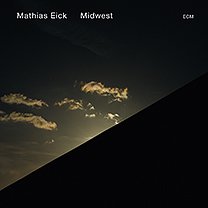 This Norwegian trumpeter has appeared previously at Elsewhere, but never with quite the wistful, reflective and thoughtful work as here, an album inspired by the territory of its title where he -- like so many of his countrymen and women before him -- ended up.
Those Norwegian pioneers went west to settle the land but Eick and his band ended up in the region at the end of gruelling North American tour and Eick fell in love with the landscape which reminded him (as it had done those predecessors) of home.
Some of the pieces (like the expansive March) refer to the vast plains and landscape -- as seen in the inside cover art -- but others are more romantic in their allusions (the title track, The Sea which is a slow ballad of oceanic movement).
There is some suggestion this album charts Eick's origins in smalltown Norway as much as the plains of America, but if so that seems hard to discern in pieces entitled Dakota and Fargo.
With a small band which includes Gjermund Larsen on violin and longtime pal Jon Balke on piano alongside bass and percussion, Eick has here created and refined a collection of extremely beautiful, often evocative pieces and quieter pleasures.
Highly recommended.