Graham Reid | | 2 min read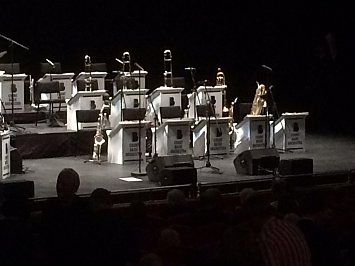 More than just carrying the music and legacy of the great Count Basie (who died in '84), the orchestra that bears his name and played Auckland's elegant Civic defies the logistics and expense of touring such a large ensemble and takes a style of music to audiences which would otherwise never hear the sound of a disciplined, professional and knowledgeable big band.
With 17 players on stage – four trumpets, four trombones, five sax players and a guitar/bass/piano and drum section – plus director and sometime trumpeter Scotty Barnhart and singer Carmen Bradford, that's a huge touring party . . . which perhaps explains why Barnhart thanked the promoters, support crew and the audience a few times on the night.
And also why he said he hoped we'd have them back.
Given the reception they received there would seem little doubt they could pull an equally enthusiastic audience at some time in the future, especially since the set – well constructed to showcase all the players – didn't include many of Basie's most popular tunes like Lil' Darlin', One O'Clock Jump and many more.
Not that too many seemed disappointed at not hearing some favourite old tunes because what the orchstra delivered covered more than enough bases, and it ran from the minimalist and pointillistic piano playing of Bobby Floyd to the tough Texas-like tenor sound of Chuck Lawrence -- a towering figure who waited until right at the end on the tune Basie to lift the roof with a biting bop solo, a style he'd hinted at previously on Moten's Swing.
From the opener, a showcase and settling-in belt through Sammy Nestico's Wind Machine, here was a band in full command of its internal dynamics as stacked up horns or trombones punched home choruses, cleverly shifted tempo (I've Grown Accustomed to her Face) or swung down with the blues (Blues in Hoss' Flat with a delightful solo by Floyd).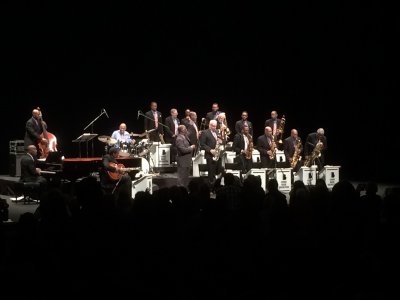 There were also popular tunes (Frankie and Johnny, Honeysuckle Rose), an especially lovely treatment of In the Wee Small Hours (which Sinatra had frequently sung with Basie's band) and a furious tempo take on Basie Power which featured a short but highly impressive piccolo solo, not an instrument you hear often on the bandstand.
Between all these – for two songs in the first half and three in the second – was the impressive figure of Bradford who first joined the band almost three decades ago.
Singing out front of a band of this size is no easy role but her gutsy power on I Gotta Right to Sing the Blues and scat singing showed an artist in full command.
However her treatment of the old Eddy Arnold country ballad You Don't Know Me (made famous by Ray Charles and Elvis Presley) had little of the nuance the lyrics require (it's a sad song which she started at a belt and went up from there) but few in the large audience seemed to judge her ill for that.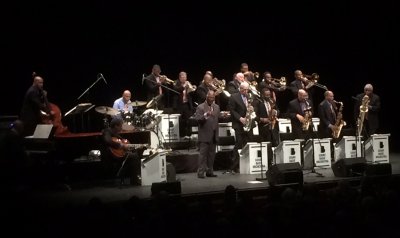 In many ways the Basie Orchestra is a tribute band to itself, a group which remains faithful to the Basie ethic of swing and entertainment.
But with obviously well-rehearsed humour (trumpeters fooling around with their mutes), a catalogue of material which can be endlessly refreshed and recycle, and players of the highest calibre, it's impossible to argue that this music is locked in its own past.
In the audience there was one gentleman celebrating his 100th birthday (yes, they played him That Song) as well as jazz musicians less than a third that man's age.
What everyone got was a professional performance of often powerfully-delivered big band music and just enough exciting solo work to keep the idiom alive and vital.
Yes, a return bout -- if the costs are not too prohibitive -- would be welcome any time.
The Count Basie Orchestra's band leader Scotty Barnhart is interviewed here.