Graham Reid | | 1 min read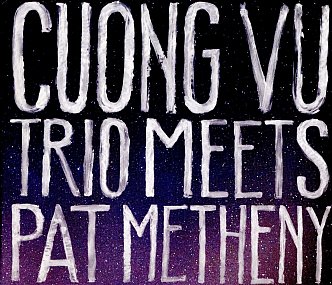 The 46-year old Vietnam-born trumpeter Vu established himelf in the NYC Downtown scene in the Nineties, has recorded for the edgy Knitting Factory label and played with Laurie Anderson, drummer Gerry Hemmingway, Cibo Matto and appeared on the unreleased 2001 David Bowie single Your Turn to Drive (aka Toy, the title track of the 2011 Bowie album and also on the recent Nothing Has Changed collection).
So he's fooled around, as it were, but the man who turned his head was guitarist Metheny.
Vu credits Metheny's '83 live album Travels as pivotal in his decision to embrace jazz . . . and in 2002 recorded with Metheny on the guitarist's Grammy-winning Speaking of Now, then again on his equally acclaimed '05 follow-up The Way Up.
Here Vu's trio (bassist Stomu Takeishi, drummer Ted Poor) pull Metheny onto their orbit however, a trajectory which has most often been spacious, slurrily modal and atmospheric, and certainly out-there.
All those reference points remain intact -- Vu's trumpet elbowing funky Miles Davis influences out of the way to nudge Ornette Coleman's style (which Davis felt insulting to trumpeters) into the cosmos. Poor challenges at every rhythmic twist and turn.
And into the mix comes Metheny's tonal palette of alternating shimmering and staccato runs (Not Crazy Just Giddying Up), sedate melodicism (the "ballad" Seeds of Doubt which sounds more Pat than Cuong) and Coleman-influenced prog-jazz (Metheny's Telescope).
Both Metheny (who recorded Song X with the late Coleman and cited him as a genius) and Vu understand Ornette's harmolidic theory -- "remove the cast system from sound" -- and here hold fast to that, where all instruments and improvisations -- and bassist Takeishi is herculean here sometimes -- are of equal weight.
This is serious jazz for serious jazz listeners and will challenge casual players in the field.
But if you are serious abut your jazz, then this is serious jazz . . . and sometimes (five minutes into Telescope) a serious challenge.
They let you off the hook if you get to the final piece, the woozily lazy and finger-snap (if you dare try) Tune Blues.