Graham Reid | | 1 min read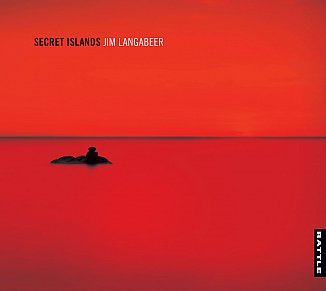 Two things immediately come to mind with this exceptional, challenging and rewarding album: Given his manifest talent which he has gifted to others' albums why has Jim Langabeer's name so rarely appeared as a leader on New Zealand albums? (Is this his first?)
And that while this improvised music clearly has reference points in jazz it does not overtly appear on the Rattle Jazz imprint. (It seems to in a microscopic reference).
Both of these things are important because by removing the "jazz" reference it might open the door for an audience prepared to accept the breadth and depth of what is here – from the woozy atmospheric ballad Rata Flowers to the harmolodic influences on the thrilling Big Smoke – and the stateless nature of many of these pieces.
Neil Watson's shimmering guitar and Rosie Langabeer's Fender Rhodes add softness to Rata Flowers while saxophonist Langabeer stretches out in and around; Freequency opens with tense drumming from Chris O'Connor which alludes to the traditions of the Pacific before searing sheetmetal guitar enters the fray; Tangi has an appropriate and beautifully dark, ethereal and disembodied feel thanks to Eamon Edmundson-Welles' arco bass, Rosie Langabeer's disconcerting piano and the woody alto tone . . .
The album opens with Jim Langabeer on putorino, thus establishing both location and intent, and the piece (entitled Bad Call) gently opens itself up on a collection which references Aotearoa New Zealand evocatively and with gentle nuance.
Rosie Langabeer's background in sound design is a key element here and her presence gives texture and atmosphere to many of the 11 pieces. But the centre of this remains Jim Langabeer (tenor, flutes) and alto saxophonist Roger Manins who share a rare synergy but also leave space for others likeWatson's gorgeous pedal steel playing to nudge the music into other directions (check that exceptional Rata Flowers).
Those with a ear to the long history of jazz may hear references to the construction of pieces by famous saxophone quartets or the stately elegance of Ellington, the free jazz of America in the early Seventies, eerie soundtracks, Maori waiata and so much more.
None of these influences or elements are overstated or deployed merely for effect (the seven minute centrepiece Hinemoa and Tutanekai sounds ageless) and the result is an album of extraordinary scope . . .
And Central Plateau towards the end has an assured sense of open space, grandeur, increasing fury and mystery entirely befitting its title.
Highly recommended.