Graham Reid | | 1 min read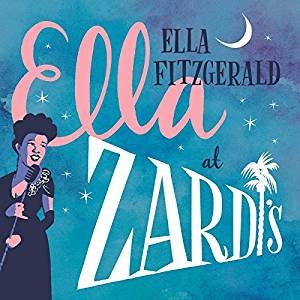 Last year was Ella's. It was the centenary of her birth in Virginia and 21 years after her death.
Between those two points the great Ella became one of the most sophisticated, classy and convincing jazz singers of all time, one who could get as deep inside a lyric as Frank Sinatra, could improvise in a scat style like the best instrumentalists and was a role model, a civil rights activist and collected awards as much as she collected fans.
Her discography is vast – albums with Louis Armstrong, Duke Ellington, Count Basie and others – and the songs covered everything from Broadway and the blues to the Beatles, the Great American Songbook (with which she is synonymous), spirituals and bossa nova.
For a decade of her recording career from '56, she was on the Verve label and last year the company undertook a major reissue programme which included her vocals with new instrumental backing by the London Symphony Orchestra.
But right at the end of last year came this previously unreleased album from February '56 which is exactly how you want to hear her: live with a small ensemble on classic songs (some of which she had yet to record in the studio). Among them are a beautiful treatment of Tenderly, Cry Me a River, her scatting through In a Mellow Tone, A Fine Romance, a swinging double tempo How High the Moon, taking a request for Gone with the Wind which the band has to find in their memory and her making up the words, Lullaby of Birdland and, yes her signature song, A-Tisket A-Tasket.
This was an historic recording for a number of reasons, it was her first live recording (Zardi's famous club was in Hollywood, both sets are on the disc) and would have been her first for Verve with which she'd just signed.
That it went unreleased for so long is odd because it captures her at one of her many peaks, is punctuated by her humorous asides and -- because of the 21-song set list -- is also an excellent, single disc starting point for those wanting to discover this remarkable woman.