Graham Reid | | 3 min read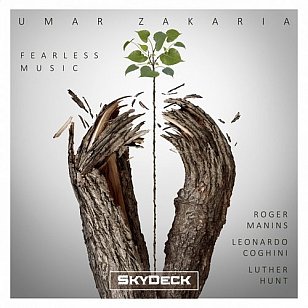 Elsewhere has occasionally written about the self-marginalisation of New Zealand jazz, notably with regard to the annual New Zealand Music Awards.
Many years ago the jazz czars decided to withdraw from the annual (televised) awards ceremony and do their Album of the Year Award within the more narrow confines of the jazz world, at the Tauranga Jazz Festival and latterly at the Wellington Jazz Festival.
It seems a shame -- given this music is vibrant, important and, judging by the sheer number of CDs being released and the critical acclaim many are getting – that the general public are largely unaware of the music and the musicians.
We know that jazz can be difficult for casual listeners but any community which looks inward is denying itself the opportunity to reach a wider audience.
And New Zealand jazz certainly deserves to play on the main stage.
This album – which recently won the Jazz Album of the Year award – was certainly one we missed because it was never brought to our attention as far as we are aware . . .
But as to this year's award and this winning album.
The shortlist was Hayden Chisholm, Norman Meehan, and Paul Dyne for Unwind, Lucien Johnson for West of the Sun, and Fearless Music by bassist Umar Zakaria with a band of saxophonist Roger Manins (a previous award winner), pianist Leonardo Coghini and drummer Luther Hunt.
Fearless Music is all original material by Zakaria who completed an undergraduate degree at the New Zealand School of Music and, as an honors student, won a scholarship to complete his master's at the New England Conservatory of Music in Boston. He was a student of the great Cecil McBee and as a result of his studies and live work performed with the venerable drummer Bob Moses (the jazz one, not the electronica band of the same name), Norio Maeda (Japan), Rob van Bavel (Netherlands), Snorre Kirk (Denmark) and Magnus Hjorth (Sweden) among others.
The breadth of his experience makes for compositions which have memorable melodic heads but an internal vigour which allows the players to all bring their A game.
The opener for example Deadline, is an economic four minutes which opens with a subtle bass rhythm and Manins unveiling a gently swinging tune which, over the course, undergoes gentle shifts, and – as the undercurrent of piano, bass and drums becomes increasingly surging and urgent -- the tune takes a more firm grip but retreats a little as the background becomes the foreground with Hunt's aggressive punctuations and Coghini's elaborate flourishes.
As an opener it has a hook like a gaff.
What follows is much more expansive, the nine and half minute ballad Archimedes (which gets a neat 90 second reprise at the end of the album, Zakaria playing arco bass) in which Zakaria's melodic dexterity comes through in a piece which allows him to, as it were, solo in tandem with Coghini . . . which Hunt challenges and changes emphasis and dynamics before Manins enters with yet another delightfully fluttering – then almost achingly languid – solo of the kind which has become his signature.
Even before the five-part Suite Melayu – which follows the spare piano-lead ballad Free Fall and a 70 second bass solo Landing interlude – you suspect the judges were ticking their boxes for this album.
That suite – referenced in Malay music as its title suggests – is of course the magisterial heart of the album and while allowing for post-bop expression it also has its heart in a deep tradition of blues, the boundary pushing of the Sixties (the thrilling Masri section), Manins sometimes bringing to mind Paul Desmond (in his solo work outside the Brubeck Quartet) and Zakaria's bass work compelling and emotionally engaging when it comes to the fore.
Sections like Zapin exist somewhere between a jazz nightclub and the exoticism of world music, Joget juggles wit and an earnest exploration of time with a bristling energy (Manins' getting a seriously tarnished tone of contained fury at one point), and Asli – the final part of the suite, the title alluding to something of a specific and special place – is as beautiful a ballad as you are likely to hear, warm, languid and thoughtful . . . before offering a yearning ache of pain and hurt as if that special place has been debased or invaded.
What is as impressive as the playing here is just how engaging these pieces are on an emotional level. While they sometimes push the casual listener they return to bright or concise melodies which are reassuring . . . before they move beyond again.
Zakaria wins kudos for these compositions as much as for his bass playing which centres many of these pieces.
The album, beautifully recorded, was very much a win for the home team: It was engineered and mixed by Jazz Composition Senior Lecturer in Wellington, Dave Lisik, and mastered by Thomas Voyce, a NZSM teaching fellow.
If you are even vaguely curious about the state of New Zealand jazz then this is the album you need to hear.
Those in the know voted it as the best in a strong field.
And it really is that special.