Graham Reid | | 1 min read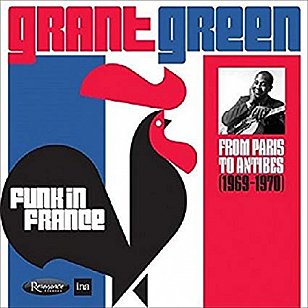 The great jazz guitarist Grant Green – who had almost 30 albums on the famed Blue Note label, some released after his death in '79 – didn't live long enough to see the wave of acclaim when key figures in the acid jazz movement started bringing his name and music to a new audience in the Eighties, Nineties and beyond.
Green's fluid, often single-string and melodic playing had been found alongside peers like McCoy Tyner, Herbie Hancock, Elvin Jones, Joe Henderson and other greats in the Sixties and – after he cleaned up his heroin addiction later in that decade – he was sharing the bill with fellow guitarists Kenny Burrell and Barney Kessel (plus a rhythm section) on a European tour.
Most of the first disc of this double album of '69 studio recordings (with an excellent booklet) – and at the Antibes Jazz festival in '70 dates – date from that tour with Green front and centre of the rhythm section (Kessel sitting in for the Forties tune I Wish You Love)
Green – who had previously recorded the Beatles' I Want to Hold Your Hand alongside standards, Latin tunes and Bacharach-David tunes – was wide in his listening and influences and opens here with the funky groove of James Brown's I Don't Want Nobody to Give Me Nothing (Open Up the Door I'll Get It Myself) which he'd previously recorded just months after Brown released it in '69.
But elsewhere on the first disc he reaches to Sonny Rollins' Oleo for a mercurial treatment of one of his favourite composers (later he delivers his Sonnymoon for Two) then turns down the mood for Jobim's How Insensitive.
The Untitled Blues piece is a cruise for all concerned but the players – bassist Larry Ridley anchoring it – ease it out to eight delicious minutes.
Perhaps more exciting, because it catches the band on the fly, are the live recordings at Antibes with organist Clarence Palmer and saxophonist Claude Bartee (one track on the first disc, the rest on the second) which dig deeper.
The 18 minute original Upshot catches Green and band in full flight (it appears twice because the recordings take from two different sets).
And he goes back to one of his old favourites, the rock'n'roll tune Hi-Heel Sneakers – he'd grown up playing boogie-woogie, rock'n'roll and gospel as much as bebop jazz – which they pull out for almost 30 minutes, just a whole pop-funk exploration and a vehicle for improvisation and pushing each other.
Some may prefer Green's measured Blue Note studio sessions with Alfred Lion's production in Rudy Van Gelder's studio but the live material here swings and stings, and you can hear why every decade Grant Green seems to undergo yet another rediscovery.