Graham Reid | | 1 min read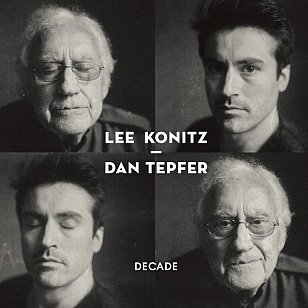 At 90, the great saxophonist Lee Konitz – among very few of his generation still standing – has played in almost as many styles of jazz (free to formal) as he has been on record labels (from Enja to Blue Note and ECM).
And of course has played alongside many of his illustrious peers like Miles Davis, Lennie Tristano, Chick Corea, Gerry Mulligan, Chet Baker, Enrico Rava, Alan Broadbent . . .
He has always gone his own way and remains doing so, as on this reunion – after 10 years – with pianist Dan Tepfer, 55 years his junior and who can be as experimental as Konitz.
Despite his classical chops ( he can play serious Bach), Tepfer too is drawn to free improvisation which is what the duo get into for these pieces. Most of these improvisations – aside from three impromptu "ego" tracks recorded in Konitz' apartment five years ago – were recorded in studio sessions a few years back during which Tepfer might shift his piano to a different place and record a separate part to be added to the mix to create a different feel (on the avant-gardist miniatures Pulsing Orange and Pulsing Green where Tepfer sounds like he is playing a busy Mondrian painting like Broadway Boogie Woogie).
Such sonic experimentation when combined with the pure improv approach reaches a peak on the gloriously unsettling yet somehow magical Through the Tunnel where Konitz offers a gentle yearning tone and closes it out with a croaky, wordless vocal.
Elsewhere is the three-part 9/11 Suite, a series of short meditations, the thoughtful opener being the finest as Tepfer's lighter touch ripples behind Konitz' more dark and woody tone on alto, which sometimes seems as fragile in sentiment as from his age. The second section seems more aggressively scattershot and less focused but the final section reconciles the difficulties and reaches back to the opener's sentiment . . . although Tepfer can nail down single notes with blunt physicality.
There is inventive whimsy here in those three "ego" pieces -- Alter Ego, Egos Alter and Eager Altos – which will appeal to those who like their free jazz light and witty.
In fact here is playful humour as much as muscular playing.
And oddly enough the final piece is a reworking of the standard Body and Soul with the pair conjuring up a very different melody out of it.
Lee Konitz has always possessed a sure sense of melody, even when seeming to avoid it in his more free expressions and much of this album achieves a happy balance between wide open possibilities and the anchor of a tune, albeit only half suggested sometimes.
Surprisingly youthful, edgy and enjoyable playing from a man with seven decades in the game . . . and who has found a kindred spirit in Tepfer.