Graham Reid | | 1 min read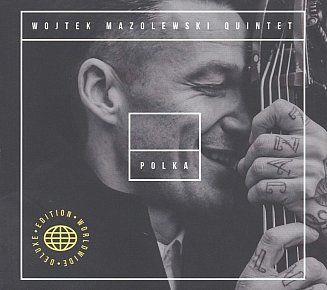 Some clarification in anticipation of an immediate turn-off. This is not an album of polka music.
Perhaps the heavily tattooed hands of young Polish bassist and bandleader Mazolewski might have alerted you to that anyway. Or the mohawk sported by pianist Joanna Duda on the inner sleeve.
Also this is a slightly expanded reissue of an edgy but approachable jazz album which was first released in 2014 – "I did not know that" – and saw the band leap from clubs to rock concert and festival bills.
With trumpet, sax and drums alongside Mazolewski and Duda, this swings but also reaches boiling point in laces and the bassist/composer says he owes debts to Ornette Coleman, Eric Dolphy and Albert Ayler, but also to Led Zeppelin and Nirvana.
So alongside a stately and thoughtful ballad like Paris which evokes a misty evening walking beside the Seine in the city of lights, or the gentle and warm tone poem Bangkok there is the three short parts of London (less than six minutes in total) which rides a funky multi-culti energy inspired by that city (evoking Afro-jazz, car horns and why Mazolewski describes as "a street party on Portobello Road").
London is one of the pieces added to the original Polka album, as is their seven minute take on the Art Ensemble of Chicago's Theme de Yoyo which closes this Deluxe Edition. It's another funky and free salute to inspirational innovators with tenor player Marek Pospieszalski squeezing out ecstatically tight and busy lines and Duda on funk-fusion electric piano.
PUNK-t Gdansk is a short and fist-tight tribute to Mazolewski's hometown and the fight for freedom which happened there with the Solidarity movement in the Eighties.
So no, not an album of polka tunes but rather a free-wheeling contemporary jazz album with its ears in the past and front-footing the present in music which is by turns considered and exciting.
Oh, there is a piece entitled Polka, but it's not one either, it's a swinging 5/4 tune.
Well worth investigating and enjoying.