Graham Reid | | 1 min read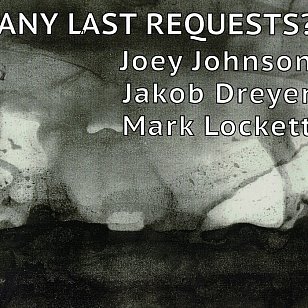 Well, you have to be a very seasoned and confident trio to play in New York City and let the audience request material from the Great American Songbook . . . because that ain't no Fake Book but a wide and deep well of standards numbering in excess of 100.
Expat drummer Mark Lockett (who has subsequently returned home) is part of this trio – with US bassist Jakob Dreyer and saxophonist Joey Johnson – and for years they would play the Knish Nosh cafe for at least three hours a day and make their living through tips.
As he tells it though, one day they turned up and the cafe had been sold . . . but because this had been such a formative and important experience (this is a music learned, and it its best, on the bandstand) they went into a studio in Brooklyn and treated it just like a set at the Knish Nosh.
So here they are swinging and swaying through extended treatments of material like Herbie Hancock's Driftin', Sonny Rollins' Valse Hot, the delightfully languid ballad My One and Only Love (which Coltrane recorded with Johnny Hartman the day after the recently released Lost Album session). . .
Jule Styne's song Just in Time gets a pointed, pop-length version initially keeping close to the simple melody then dropping into a busy invention by Johnson, and a standout is their version of the late Sam Rivers' flighty ballad Beatrice.
So their reach goes beyond the mainstream of the American Songbook and into material which make up the wider jazz canon.
This is – by virtue of the setlist – classic jazz grounded in the tradition (with a nudge into bop) and the trio are taking it on tour (see dates below).
Hmm, wonder of they do requests?
THE ANY LAST REQUESTS AUSTRALASIAN TOUR
Tue 2 Oct, Point Chevalier RSA (Auckland)
Wed 3 Oct, Nivara Lounge (Hamilton)
Thur 4 Oct , Lucky Bar and Kitchen (Whanganui)
Fri 5 Oct , Little Andromeda (Christchurch)
Sat 6 Oct , Fairfield House (Nelson)
Sun 7 Oct , Rogue & Vagabond (Wellington)
Tue 09 Oct , Smiths Alternative (Canberra)
Wed 10 Oct , Foundry 616 (Sydney)
Thur 11 Oct , Jazzlab (Melbourne)
Sat 13 Oct , Doo-dop (Brisbane)
Mon 15 Oct , Wheatsheaf Hotel (in association with COMA, Adelaide).