Graham Reid | | <1 min read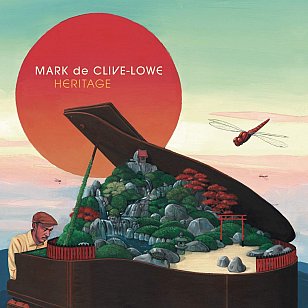 Expat New Zealand pianist/composer Mark de Clive-Lowe here explores his Japanese/European heritage in music which peels off from the hip-hop-influenced jazz he made his name with in New Zealand.
On Heritage, while still using contemporary electronics, sits at the keyboard with his group – recorded live in the Blue Whale club in Los Angles and in a North Hollywood studio – for pieces which bridge smooth jazz, the contemporary avant-garde and some exploratory playing which sounds like it has jumped from the Fifties into modernity (of the latter, the solo piano piece Akatombo).
There is thoughtful, but strong, elegance in some of these seven pieces (Memories of Nanzenji with weightless electronic keyboard, the ballad Mizugaki with astringent sax and angular percussion) but also some heft (Niten-Ichi).
Co-credit here goes to the musician who get this sometimes unpredictable and technically demanding music away: altoist Josh Johnson (who has played with Leon Bridges, Esperanza Spalding and many others), saxophonist Teodross Avery (Talib Kweli), bassist Brandon Eugene Owens (Robert Glasper) and drummer Brandon Combs (Moses Sumney)
Those new to de Clive-Lowe's wide-ranging style might find the sonic effects on the opener The Offering – which do seem extraneous – somewhat off-putting and Akatombo a bit slight, but the best here is recommended.