Graham Reid | | 1 min read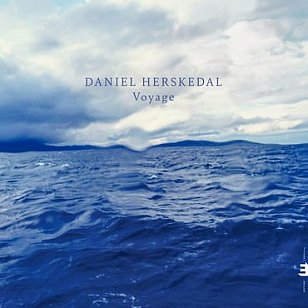 Jazz tuba is not rare but certainly uncommon: among the great players are Bob Stewart who played on a dozen or so albums with Arthur Blythe; Howard Johnson for whom tuba is among his artillery and who has appeared on albums by just about everyone from Mingus and Dexter Gordon to the Band and Lennon; and British session man Herbie Flowers.
Daniel Herskedal is Norway's most pre-eminent practitioner and plays bass trumpet also.
At just 36, he has built a reputation in various bands and a catalogue of a handful under his own name.
With longtime collaborators Eyolf Dale (piano) and percussionist Helge Andreas Norbakken – and viola player Bergmund Waal Skaslien and Maher Mahoud on oud -- he crafts an impressive suite-like series of pieces which is a kind of aural travelogue but also at times (and in some titles) evokes the passage of migrants to Europe and Scandinavia: Batten Down the Hatches; The Mediterranean Passage in the Age of Refugees; The Horizon; The Gulls Are Tossed Paper in the Wind, Rescue-at-sea Operations . . .
The emotional lamentations inherent in the oud and viola are here central to the aching melodies but Herskedal's tuba also acts as the sound of yearning or gloom where required, as on the arresting and portentous opening track Batten Down the Hatches before pianist Dale brings some light through the gathering storm clouds.
Around the more emotionally lugubrious pieces there are tracks of great beauty (notably when Dale is at the centre) but many – like the The Mediterranean Passage for example with Mahoud's oud the impassioned pivot – these mods oscillate and take the listener on a journey.
Voyage is timely in its thoughtfulness but on a purely musical level succeeds beyond the intention, it is broadly cinematic (check the title track) yet finely detailed and – while perhaps not for many more conservative jazz listeners – is an engaging and engrossingly different album from a perhaps unfamiliar source.