Graham Reid | | <1 min read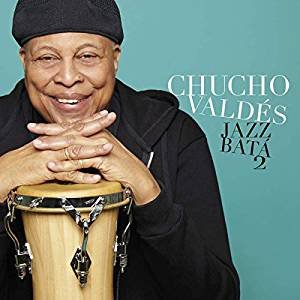 This great Cuban pianist turned 77 last year and could reflect on a remarkable career in which he was acclaimed internationally, has won Grammys and founded the enormously successful Irakere band.
And on this outing with an acoustic quartet featuring the vocals and bata drums of Dreiser Durruthy Bombale he takes his distinctive, frequently percussive and jigsaw-puzzle playing to music which can be as melodic as it is contrary.
Bassist Yelsy Heredia's arco playing brings a sombre mood to the central passages of the 13-minute opener Obatala which is bookended by lively percussion and ascending/descending-then-jump left piano. It's an arresting start to these eight track which includes guest violinist Regina Carter on the ballad 100 Anos de Bebo, a lively and romantic piece which is a tribute to Valdes' famous musician father "Bebo" who died in 2013 but would have been 100 last year.
She also plays on Ochun, a more elegant and mainstream ballad than anything else on this collection which will doubtless appeal more to those up for a Monk-like challenge than expecting some trickle-down of the Buena Vista vibe.
Cuban post-bop with West African influences, subtle percussion from Yaroldy Abreu Robles and some extraordinary and unpredictable piano playing.