Graham Reid | | 1 min read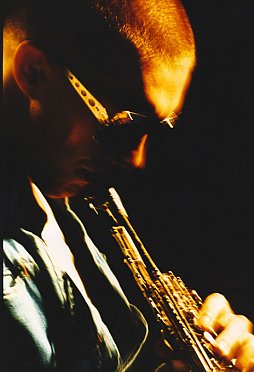 In 1994 Nathan Haines released his debut album Shift Left, an album which revealed a fault-line between the previous generation of New Zealand jazz players and – because of its use of turntables and rappers – a new generation which had embraced hip-hop as much as the cool sounds of the 50s and 60s.
Shift Left – the title chosen from a roadworks sign which appealed to Haines' left-leaning attitude – remains New Zealand's biggest-selling jazz album. Yet, a year later when it was awarded Jazz Album of the Year. Haines wasn't interested in the accolade or the album anymore. He was only 22 when he recorded it and had, he said, "moved on into electronic music and found the album dated."
Shift Left remains a benchmark in Haines's career, but there had plenty of work before it … and there has much more, and more musical diversity, since.
Nathan Haines, born in 1972, and his younger, guitar-playing brother Joel grew up with jazz in their suburban home on Auckland's sprawling North Shore.
Their father Kevin Haines is an accomplished acoustic bass player and so classic jazz –
Coltrane, Davis, Rollins and others – was a natural part of their upbringing, as was performing.While still at school the boys joined their father to play as Second Generation and that brought them further into contact with local players such as saxophonist Brian Smith, trumpeter George Chisholm, drummer Tony Hopkins and many others.
By the mid 1980s the barely teenage Haines – who had been in the North Shore Youth Orchestra – was already making a name for himself at Pat Shaw's famous Cotton Club concerts (with Second Generation) and at the Tauranga National Jazz Festivals where, in 1985 aged 13 he won Most Outstanding Young Jazz Musician and, in 1989, he was awarded Sony Young Jazz Musician of the Year.
Other accolades would follow, notably . . .
To read the rest of this article on Nathan Haines career go to audioculture.co.nz direct right here.
Audioculture is the self-described Noisy Library of New Zealand Music and is an ever-expanding archive of stories, scenes, artists, clips and music. Elsewhere is proud to have some small association with it. Check it out here.
There is more on Nathan Haines (interviews, reviews etc) at Elsewhere starting here.