Graham Reid | | 1 min read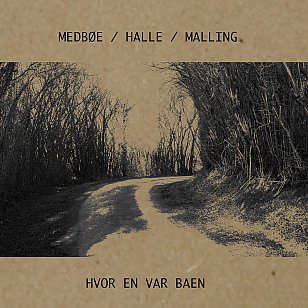 Following the recent 10 inch release with Swedish pianist Jacob Karlzon, Edinburgh-based Norwegian guitarist Haftor Medbøe here teams up with Norwegian trumpeter Gunnar Halle and Danish bassist Eva Malling for a further limited edition, hand-numbered 10 inch installment of distinctive, lean improvisations.
But here this trio stretch further using the folk poetry of Danish writer Martin N Hansen as their inspiration.
Hansen's poems lent themselves to pastoral and bucolic settings by a number of early 20th century Scandinavian composers whose work here is thus re-interpreted as evocative tone poems, and to many ears they won't be too much of a stretch from Mark Knopfler's more recent folk-based tunes.
Medbøe's guitar can have some of the warm melodicism of Bill Frisell (Folk der Kam Ind Ad E Bagdor and Lill' Mari) or the quiet reflection of Pat Metheny (the especially beautiful ensemble piece Som Sang I Juninoetter) and Halle's trumpet sometimes possesses the firm but breathy quality of Jon Hassell in his best reference to Clifford Brown or early Miles Davis (Glaj Som Skull En Mod Sin Kjoerest and Lill' Mari).
Award-winning bassist Malling, who studied under the great Nils Henning Orsted Pedersen, is a powerful but discreet presence here: check the way she underpins the more swinging and elegant miniature Jeg Gar I Gronne Enge and Ae Nynner En Vis.
For most these names will be unfamiliar but this 10 inch, 45rpm disc is much less modest in ambition than first appearances suggest. And without knowing a word of the poetry which inspired the original composers and these interpretations, this is a thoughtful journey into a world of contemplation, atmospheres and economically realised moments of the imagination at rest.
Hvor En Var Baen and the previous 10 inch are available as a vinyl editions with a digital download from copperfly.co.uk