Graham Reid | | 1 min read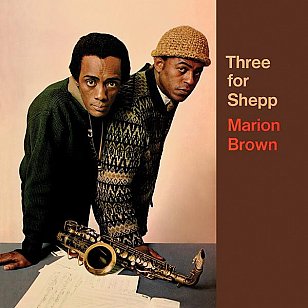 Although that is Archie "let my notes be bullets" Shepp staring intensely out of this album's cover alongside saxophonist Marion Brown, and despite three of the six pieces being penned by him, the great saxophonist doesn't actually appear on this '66 release.
No matter in way, because altoist Brown was a powerful and melodic player – he was 30 at the time, he died in 2010 – and he has alongside him trombonist Grachan Moncur III, and a shifting line-up which includes pianists Stanley Cowell and Dave Burrell, drummers Beaver Harris and Bobby Capp, and bassist Norris Jones (aka Sirone).
Many of these players – and of course Shepp, who is in his Eighties as we write – were in the vanguard of black political free jazz in the following decade, and some of that music was very commanding and demanding.
This album on Impulse! (Brown's debut under his own name) is more akin to entry level in that while there is some vigorous interplay and free jazz assertions there are also distinctively strong melodies (Brown's The Shadow Knows, Shepp's swinging Spooks).
And these players had worked, or would work together again, so there is a kind of intuitive empathy at work.
Certainly Brown would make other, and some would say better albums (many point to his sole ECM album Afternoon of a Georgia Fawn for its experimental musicality, others to his even more challenging EPS-Disk releases around this time). And of course he was on Shepp's seminal Attica Blues.
But this album is a useful jumping in point and then you can follow these artists previous and subsequent careers.
Three for Shepp has been available on Spotify for some time (and CD) but we bring it to attention now because it has been reissued on vinyl for the first time through Superior Viaduct.