Graham Reid | | <1 min read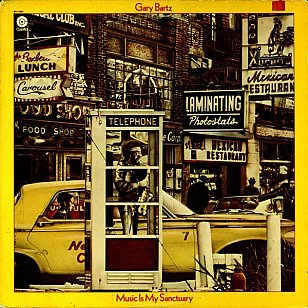 Saxophonist Gary Bartz was a graduate of Juilliard and in the early Sixties was a real frontline player with McCoy Tyner, Eric Dolphy, Art Blakey's Jazz Messengers and others.
He could play in the pocket (as they say) but also get into the free jazz/Black Consciousness movements of the late Sixties and early Seventies with his Gary Bartz NTU Troop which melded funk and soul alongside jazz.
In that, he had maybe been inspired by Miles Davis whose band he briefly joined (he appears on Live-Evil).
Albums like Juju Street Songs with the Troop are essential listening.
By the late Seventies however he had moved into a smart jazz-funk/disco style and this album released in '77 was produced by the Mizell Brothers (keyboard player/singer Larry, Alphonse aka Fonse of the famous Corporation which wrote the Jackson 5s hits in the late Sixties) with Syreeta Wright (who had been married to Stevie Wonder) on vocals.
Melvin Ragin (aka Wah-Wah Watson) plays guitar alongside the crack band of jazz/session musicians.
Many of Bartz' former fans and champions hated it – disco was anathema to most – but these days we can accept it for what it is: an often high-energy implosion of disco, dance, soul-funk and energetic jazz. And some slinky ballads.
It's pretty cracking and although it has been available on Spotify for quite a while it now also appears on vinyl through Sounds of the Universe.