Graham Reid | | 1 min read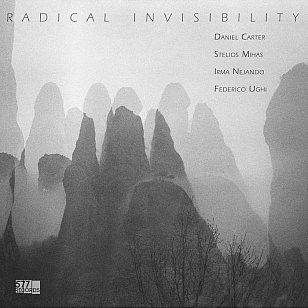 Start with the side-long weNyamombe and Gomukomu weSimbi by this New York jazz quartet and you might think you've stumbled into a strange but beguiling ECM session where Miles Davis has teamed up with Ornette Coleman's Prime Time band (toned-down) with Bill Frisell alternating with James Blood Ulmer on guitar.
The title apparently refers to two musician-poets from Mozambique in the Forties whose texts, according the band's guitarist Stelios Mihas combined "joy with melancholy, political comments and protest with everyday gossip. They express the dynamic liveliness of the people, while carrying a universal spiritual message".
That may be so and certainly all those elements and emotions are somewhere in this constantly morphing piece . . . and it's the perfect introduction to this group, even though the track is the second side of the vinyl. The first side is a little more problematic and demanding, in a good way.
Radical Invisibility are the remarkable 73-year old Daniel Carter (saxophones, trumpet, clarinet, flute, keyboards), Mihas (guitar), Irma Nejando (bass) and drummer Federico Ughi.
This is their debut album although the insert download code with the album identifies these players across a number of other albums on the long-running 577 Records label (see here) which is Carter and Ughi's project.
Carter has played with Thurston Moore, Yo La Tengo, poet Anne Waldman and numerous free jazz practitioners down the decades, but here reins himself in a little for the short and quirky Ms Gertrude (dedicate to Gertrude Stein who might not be invisible herself but her radical work is to most people). It opens side one amidst some crosscut electronic scratches, Mihas' busy guitar and extraordinary bass playing (all hallmark of this band).
The major work on this side is the tension-release drama of Diaspora Guinea, a free jazz piece which swings gently in places but mostly finds each player pushing further and further forward, often with that bass and drums combo prodding or leaping ahead. It is excellent.
On Spotify there is an extra track, the four minute Mrs Myth for Bessie Smith which is appropriately bluesy and slow.
Chance took Elsewhere to this album a month or so ago and it has rarely been far from the turntable.

You can hear it at Spotify here, or find it at bandcamp here.
We got it on vinyl from Southbound Records in Auckland.