Graham Reid | | 1 min read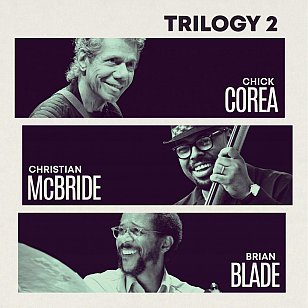 Although Elsewhere unashamedly indulges in free jazz (and has written about some of its more obscure corners here), there is something satisfying, reassuring and comfortable about hearing some of the idiom's finest practitioners playing off each other in a small acoustic setting, often on standards which get reinvented in that instant between thought and expression.
That is why we will always give Keith Jarrett a fair hearing, especially in his trio with drummer Jack deJohnette and bassist Gary Peacock.
And pianist Chick Corea, here again with bassist Christian McBride and drummer Brian Blade.
This double live set recorded in 2016 but only released late last year, follows their Grammy-grabbing three-CD set Trilogy of '14 . . . and once again jazz standards and classics are their vehicles (How Deep is the Ocean, Monk's difficult Crepuscule with Nellie and Work, But Beautiful, Miles Davis' All Blues among them) get re-thought alongside some cornerstone Corea originals, notably a 16 minute exploration of Now He Sings Now He Sobs which – to the best of our knowledge – he hasn't recorded since the version about half a century ago.
There's a gently funky and almost Caribbean treatment of Stevie Wonder's political Pastime Paradise (from Songs in the Key of Life) which revolves around repeated phrases and hits a groove with subtle urgency.
From the intellectual muscularity required for the Monk to the gentle teasing apart of Jimmy Van Heusen's But Beautiful, this a collection which challenges in its own way as any free jazz album.
And when it is more at east with itself and swinging out (Joe Henderson's Serenity and Kenny Dorham's Lotus Blossom at the end of the second disc) it feels like a warm balm where the confidence of the players is never smug and coasting.
At a guess there is about 130 years of playing experience in these pieces, further proof that in jazz – as in the blues – age is not an impediment . . . but a virtue.
You can hear this album at Spotify here