Graham Reid | | 1 min read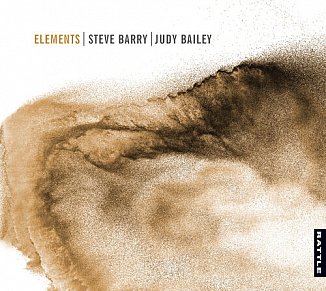 Expat New Zealand pianist Barry studied under the exceptional Australia Bailey when he attended Sydney's Conservatorium of Music (where Mike Nock also taught) on a jazz course and almost immediately discovered they had a mutual understanding when it came to live improvisation.
Barry called it "telepathy" and this session recorded live in August 2018 confirms that.
The album title refers to time as much as the five elements (pieces here include Magma, Tane-Rore, The Dinosaur Plod, Maelstrom, New Dawn and at the end The Forest Sleeps).
So there an exploratory, evocative thread binding the nine pieces which are by turns brooding (the short opener Magma), dreamlike as atoms and molecules draw together (Exordium), playful (Fairy Goblins' Dance), muscular (Dinosaur Plod) and busy (the three minute Maelstrom, of course).
Often with demanding, improvised music we say that this music is not for everyone (or some other similar consumer warning).
But while this by description – solo pianos, free improvisation – might seem to require that counsel, that isn't the case here.
This is highly approachable, utterly engaging, sounds like the music for a contemporary dance production (shut your eyes) and is never so far out that you don't feel it will come back.
Take the journey through time and the mind.
You can hear and buy this CD from Rattle here. And hear it on bandcamp here.
Check out Steve Barry's earlier Rattle album at Elsewhere here.
ELSEWHERE ENCOURAGES ITS READERS TO SUPPORT NEW ZEALAND ARTISTS BY BUYING THEIR MUSIC DIRECTLY RATHER THAN STREAM THROUGH SPOTIFY WHERE THEIR RETURNS ARE NEGLIGIBLE