Graham Reid | | 1 min read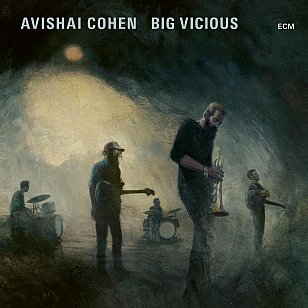 Not to be confused with the Israeli bassist/singer of the same name, this Avishai Cohen – also originally from Israel, then in the US – is a highly regarded trumpeter whose style has some of the spare precision of early Sixties Miles Davis but is also contemporary in that his band Big Vicious edges towards widescreen rock courtesy of guitarist Uzi Ramirez, guitarist/bassist Jonathan Albalak and drummer Aviv Cohen.
Drummer Ziv Ravitz also does live sampling alongside the other drummer Aviv Cohen.
Tellingly they use Massive Attack's Teardrop as a vehicle here. Oh, and deliver an airy, vaguely Spanish treatment of Beethoven's Moonlight Sonata.
For four years in a row Cohen has been voted a rising star (trumpet category) in DownBeat's Critics Poll.
Aside from work under his own name and now with this band which he formed in 2014 when returning home from the US, he has also played the the Mingus Big Band, Mingus Dynasty and played in the pop end of the spectrum with French singer Keren Ann.
He's led three previous albums on ECM but this is the Big Vicious debut and while there is enough here for the more conservative ECM aficionado (or at least those who've enjoyed the sometimes cool ambience of some albums) there is an emotional warmth at work, as much in Ramirez' more constrained, and sometimes Frisell-like chiming as in drummer Cohen's understatement and trumpeter Cohen in languid and long lines.
The Things You Tell Me at the centre and The Cow And The Calf later are pleasant but too slight, however at other times this is very much a product of players who came to maturity in the 21stcentury and could draw on decades of rock, trip-hop and pop influences as much as a century of jazz.
Try the rocking King Kutner or better, Hidden Chamber which creates a seamless weave of many influences into jazz-noir for the chill-out room.
Big Vicious, the band, are undoubtedly one to keep an ear on if your tastes are broad and wander freely between Miles' Kind of Blue, Massive's Blue Lines and Frisell's Blues Dream.
All the elements are there and if sometimes they don't quite rise in some places as they do elsewhere, this is still an album which could be of interest to those who can clock those references.
You can hear this album on Spotify here