Graham Reid | | 1 min read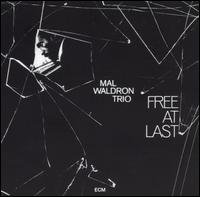 Some time in late '88 I was in Paris and by pure chance saw a small ad in some street press saying the Mal Waldron Trio was playing that night in a club.
What club and where I can't recall but I made my way there despite being almost entirely ignorant of who pianist Waldron was.
But I knew who he had been.
Decades previous he'd played with Coltrane, Mingus and Eric Dolphy.
And that was enough for me.
I didn't know at the time he'd also played with Billie Holiday and many others, and nor did I realise that his '69 Free At Last album with his trio of bassist Isla Eckinger and drummer Clarence Becton had been the debut release for the new ECM label which was the project of German producer Manfred Eicher.
Waldron seemed an unlikely choice for the label's first recording but as Eicher told me a few years later on the 25thanniversary of his company – by that time the leading label in European jazz with an impressive catalogue of American, European and Scandinavian artists – the company pressed 500 copies initially and it went on to sell 14,000.
Waldron – who had gone through some hard times – was however available in the late Sixties and as Eicher noted, at the time most American jazz artists were signed to larger or established independent labels.
And so Eicher actively sought out sidemen (Keith Jarrett was an astute choice), European and Scandi artists (again, Jan Garbarek was inspired) and some of those US expats who had found a home and receptive audiences in Europe when America was indifferent to them.
That included Waldron who – surviving heroin addiction – had moved to Paris and around the time I saw him was living in Munich.
Honestly I can't remember who accompanied him that night but I remember the odd venue – a long cold room with bleacher seating down the length which meant early arrivals got near the performer and those later way down the end.
I was close enough.
Waldron – who died in 2002 – was still a powerful player but I do remember thinking I was seeing him some way past his best.
Free A Last captures some of the muscularity of approach in material which is sometimes almost angrily minimalist in its rhythmic attack and in places nudges towards free – but grounded – playing, hence the double entendre of the title.
For a debut album on a new label it was quite some announcement of intent by Eicher.
This excellent reissue with extra material and enhanced packaging celebrates not just that album but ECM's 50thanniversary.
It is available as reissued double Vinyl and CD but is also on Spotify here and very much worth discovering.