Graham Reid | | 1 min read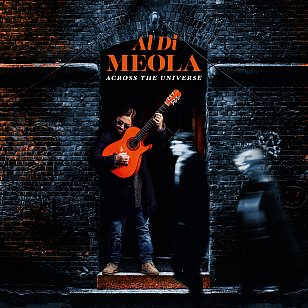 Guitarist Al Di Meola is not the first and certainly won't be the last jazz musician to pay tribute to the Beatles, the band he credits with getting him into playing music: "That was a major catalyst for me to want to learn music, so their impact was pretty strong".
And actually it isn't the first time he's been down this route. In 2013 at Abbey Road he recorded All Your Life; A Tribute to the Beatles.
This one comes in a better cover homage (to Lennon's Rock and Roll album).
Di Meola being of the jazz (and jazz-fusion) persuasion brings an electric – and sometimes electrifying – attitude to the familiar catalogue which is largely weighted towards the band's final three years when the songs were more complex and therefore more open to interpretation.
So here is a blend of acoustic playing (he's quite the picker) alongside that searing and rapid electric – and often exotically Latin – style he is best known for.
The opener Here Comes the Sun for example starts somewhere near the Alhambra before the familiar chiming Harrison melody rings out but, after setting it up as so-far-so-familiar, the tempo increases into double time and the sun is far more desert than English country garden.
Distant vocals ("round round") establish the acoustic Dear Prudence where the melody is steadily left behind for more filagrees and Hispanic flourishes, Norwegian Wood evokes the sitar passages of the original but again finds a line between Moorish and Spanish influences over tabla, and when the electric band comes into play (the closing overs of the Golden Slumbers medley) the energy hits a more wired-up tension.
He makes McCartney's dull You're Mother Should Know surprisingly interesting in a complete reinvention.
But, as adventurous as this is in places, Di Meola obligingly returns closely to the familiar tunes which means the journey can often feels truncated and cramped as he pours himself into the improvisations before circling back home.
There is an interview with Al Di Meola at Elsewhere here.
You can hear this album at Spotify here.