Graham Reid | | 1 min read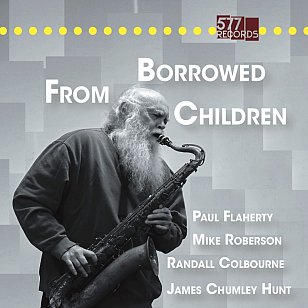 Now in his Seventies, alto/tenor player Paul Flaherty has been part of the NYC/free jazz scene for almost 50 years and continues the improvising project of his early influences such as the young
Pharoah Sanders
,
Peter Brotzmann
and
Ornette Coleman
.
And for much of that time Flaherty has worked with – as he does here – drummer Randall Colbourne (32 years) and trumpeter/conch player James Chumley Hunt (since the Nineties).
Guitarist Mike Roberson here has been with these players off and on since 2012.
So that's a lot of mileage clocked up, but ironically this – recorded live in Connecticut last November – is their debut release as a quartet.
Perhaps it is the staccato attack of Roberson in places, those years together or something in this particular synergy, but this is not free jazz so challenging as to put the curious off.
Yes, of course there is some physical wrestling with notes and interplay at points: the middle of the 17 minute opener Crude Gray Sky is a bit of a cage fight, which means it's perhaps best not to start at the start of the album.
But there's wit and teasing aplenty – those querulous opening phrases of Dark Leaves Linger and the faux-minimalism on the increasingly frantic Brazen Eyes – as well as an energetic pursuit of notes which seem to be always running ahead of the players.
Elsewhere cautions listeners when it comes to music like this by saying "not for everyone", but very little music is "for everyone".
So if those references above are familiar but these names are new, this won't be too much of a stretch. And it comes on that 577 Records label out of New York which has been attracting Elsewhere so often in the past six months.

Borrowed From Children (the title a Native American saying about not inheriting the earth from ancestors but having it on loan from our children) is available through 577 Records in Brooklyn or on vinyl from Southbound Records in Auckland.
It is on Spotify with an extra track here.