Graham Reid | | 1 min read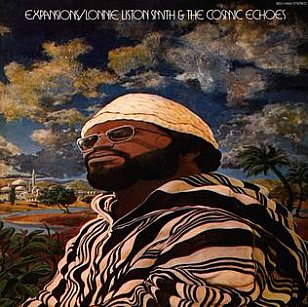 In the mid Seventies while some African-American artists were getting tight with the brothers and sisters on the angry street or getting back to Africa (sometimes via what we now call Afro-Futurism), some were heading for the cosmos propelled by jazz-funk and using the dancefloor as their launch-pad.
This third album in '75 by the great keyboard player LLSmith with his Cosmic Echoes band followed their Astral Traveling and Cosmic Funk releases, and the first words you hear from singer Donald Smith (Lonnie's brother who also brings serious jazz flute into the game) on the six minute opener/title track are "expand your mind . . .".
This bubbling soul-funk album first appeared on the creditable Flying Dutchman label – and Smith co-produced it with the label's Bob Thiele – but over the years has undergone numerous rediscoveries and its sheer funkiness (Cecil McBee on bass, conga and bongo players in the mix) has recommended it to crate-diggers and DJs for decades.

Smith had serious jazz chops: he'd previously played with Rahsaan Roland Kirk, Art Blakey (sharing the piano stool with Nike Nock and Keith Jarrett), Pharoah Sanders, Miles Davis and others which explains the vocal version of Horace Silver's Peace here.
But his street-funk persona is more evident on material like Voodoo Woman which sounds like it comes from the soundtrack to a blaxploitation film.
There's an earthiness here despite its astral intentions and although smooth in places you are not going to mistake this for creamy LA jazz (although My Love could get playlisted after midnight on Lite-FM).
It's cool and groovy, but not in the cliched way those words are used.
Expansions has long been on Spotify if you want to sample it but we have it as a Recommended Reissue because it is now readily available on vinyl in New Zealand through Border Music. It's so good we could even have had it as an Essential Elsewhere album.