Graham Reid | | <1 min read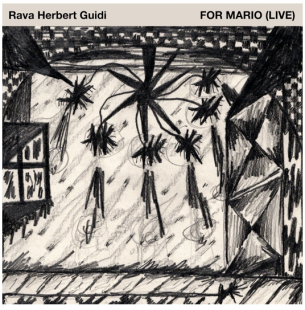 With elements of minimalism, tone poems, avant-garde inclinations, yearning European trumpet and soundtracks for disconcerting films, this trio of trumpeter Enrico Rava, pianist Giovanni Guidi (both ECM artists) and UK electronic composer Matthew Herbert here invent an aural landscape scape of manipulated sounds and samples, noise and delicacy, drama and reflection.
The Mario of the title is the late father of Giovanni and was a manager/friend to Rava and was in attendance when these pieces – which refer to states of mind as much as the development of musical ideas -- were recorded at concerts in Italy.
Those who can discern a line between Miles Davis' Ascenseur pour l'échafaud and the soundtracks of Ennio Morricone, Nino Rota and others Italians will be very much at home here as these five pieces unfurl, fold back in on themselves and find a new tangent to explore.
Lonely romanticism is evident also in the brief solo passages by Rava and Guidi.
Challenging for sure – because little is at rest on a single idea for very long -- but quite engrossing and successfully experimental in a way because there is resolution as much as suspension.
This is a digital only release and you can hear it on Spotify here.