Graham Reid | | <1 min read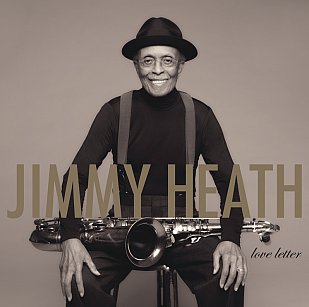 When the great jazz saxophonist Jimmy Heath died in January this year at 93, one of the final connections with that early age of the bebop of Charlie Parker and Dizzy Gillespie (not to mention Miles Davis when he replaced John Coltrane in Davis' band in the late Fifties) was severed.
Although sometimes dismissed as being derivative – a follower not a leader – Heath (whose brothers were also jazz musicians, Percy and Albert) was often a delightful tenor player although in later decades he was better known as an arranger, teacher and mentor than a performer.
This album, recorded in a couple of days before his final birthday, is a gentle testament to the warmth of his style on slow ballads (Left Alone, Inside Your Heart and a richly sympathetic Don't Explain among them)
And also to the regard in which he was held: guest vocalists are Cecile McLorin Salvant and Gregory Porter; Wynton Marsalis appears on La Mesha and the pianist throughout is Kenny Barron.
Love Letter is indeed that: one from his guests to him, and from him to us and the long life he lived.
A beautiful, measured, romantic album with just brief suggestions of understandable melancholy.
.
You can hear this album on Spotify here.