Graham Reid | | 1 min read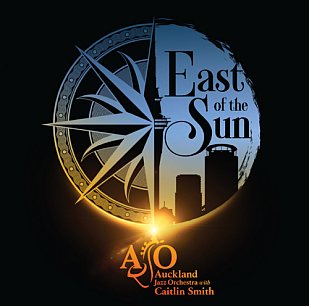 With CD sales in free-fall and jazz a minority music, why would the AJO (with singer Caitlin Smith) even bother with a professionally packaged, gatefold sleeve release like this?
Yet this is much more than a vanity project but a warm showcase of these talented players recorded over a couple of days and mastered by Steve Garden (of Rattle).
In the line-up are name players familiar to Elsewhere readers – Kevin Field, Will Goodenson, Ron Samsom, Mike Booth, singer Caitlin Smith – and the selection leads the listener in with a number of tunes by, or associated, with Duke Ellington.
These are all delivered with serious accomplishment by the band (Smith over-emoting on the lovely Solitude) but it all seems too easy and familiar.
The essence of this album comes after that in the four-part Auckland Harbour Suite (compiled and arranged by trumpeter Booth).
From the warm tones of the slow and discreet horn section which set up the trumpet announcing the eight minute Dawn then a fluid saxophone suggesting a breeze across the Waitemata before some light funk (with seagull sounds?) this leads naturally into the brightly swinging On the Water, Rangitoto And Beyond (a more reflective piece with subtle interplay of lines and a beautifully understated piano part by Bhagirath Prutvi which adds further breathing space before some urbane playing . . . way out at sea!)
And it closes with the chipping night-time disco-funk groove of Harbour Lights.
This is a tightly arranged suite of different moods which offers the rare accomplishment of evoking exactly what it intends.
This is an album of halves: the first delivering much that is familiar while establishing the considerable talent within this disciplined big band; the latter letting the players put their own stamp and originality into the world.
So as to that question: Why would anyone . . .?
Not just because they could, but because the impressive playing here deserved to be captured and shared.
.
This album wil be launched in Auckland on July 30 (see below). The AJO album East of the Sun is available on pre-release order at bandcamp here.
.