Graham Reid | | 4 min read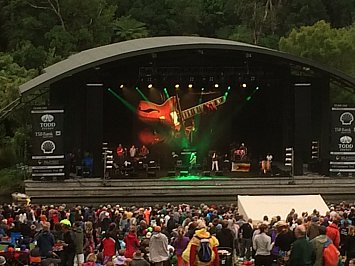 The glee-cum-concern with which weather forecasters last week announced the impending tropical cyclone doubtless accounted for "calm before the storm" being heard as often on Friday, Womad's opening night, as frontman Ryo Nakata of Japan's enjoyably bizarre soul-funk band Osaka Monaurail shouting, "Are you ready?"

The large crowd had been ready since the impressive opening when Tim Finn was joined by a choir of young Maori children for his song Parihaka.
This inspirational opener to Taranaki's 10th Womad raised hopes for a great weekend, although storm clouds hung heavy and the wind sometimes blew hard.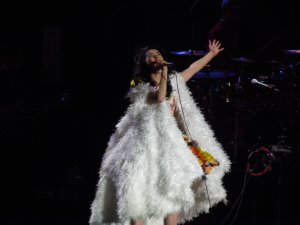 It was smart programming to have Kimbra's sole showing on Friday. Her set also let her road-test songs from her forthcoming album in front of a sympathetic crowd.
Dancing like a psychotic wind-up doll and dressed to impress Gaga-like, she delivered new material which nodded towards Prince and churning soul-funk in another, although in other places did sound like a thin ideas stretched to breaking point.
It was an energetic performance of sometimes uneven material and although in superb voice the question remained for many. Kimbra at Womad?
Having return visitor Femi Kuti close Saturday night seemed a good idea. But – like Osaka Monaurail – he took a long time to fire. No amount of booty-shaking dancers could cover his vocal shortcomings and – as with Hugh Masekela last year – Femi appears past his best. As the band did the heavy lifting there was a steady stream to the gates early.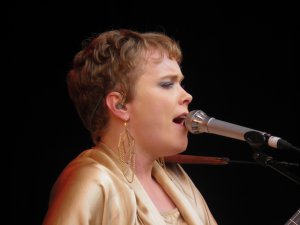 As always there were outstanding voices: Norwegian-born Ane Brun (left) delivered a fine set of memorable songs with choruses rather than relying on grooves and beats as so many over the weekend did.
Although demanding, the Sufi ensemble of Asif Ali Khan (which included his father) provided mesmerising and elevating sets of transcendent music driven by handclaps and fiery tabla. They may have been spiritual but they were also danceable.
The exceptional Carminho from Portugal managed to bring the passionate sound of late-night fado to a crowd in a field on a breezy afternoon, and Emel Mathloulthi from Tunisia delivered an uncompromising set of power and passion which offered no easy choruses, clap-along or dance but often seared like a hot blade. She was stunning.
Reunion's Danyel Waro introduced the sound of maloya and made a great case for further investigation of this vibrant if unfamiliar music, and Scotland's Breabach proved white folks can dance more easily to jigs than polyrhythmic Afrobeat.
Moana and the Tribe were a mainstage standout with their meld of thumping soul-funk and haka which also delivered well-received social and political messages, among them a new song Seashells speaking out about multi-national deep sea drilling and black sand mining (between signs for the sponsors Todd Energy and Shell) and closing with the The World is Watching.
On the same stage on Sunday morning Holly Smith offered a finely focused and soulful set.
Tim Finn's vocals on the Friday night didn't do justice to some classic Split Enz songs such as Six Months in a Leaky Boat and I Hope I Never (a case of applauding the familiarity of the song) but a standout was his More Fool Me about former bandmate Phil Judd. It is among his most affecting songs and, by being more recent, within his current vocal range. The support from the Bads – notably guitarist Brett Adams who immediately became a talking point – meant their excellent set on the tiny Dell Stage the next day was well attended.
In the same setting Delaney Davidson also won the crowd with his distinctive take on country and blues, as did Spanish harmonica virtuoso Antonio Serrano who mixed the unfamiliar with standards including an impromptu Raindrops Keep Falling on My Head for the damp audience.
It was also impossible not to enjoy the twanging surf-rock of Spain's Los Coronas.
Cuban pianist Roberto Fonseca played an occasionally brilliant set of explosive jazz with a relentlessly melodic right hand and a thunderously percussive left. At one point the band embarked on something like a mad molestation of Take Five with Fonseca comping behind an adrenaline-fueled drummer. It was thrilling.
And surprisingly successful was Boomerang, a project which might have seemed like a forced marriage of Maori, Aboriginal and Scottish performers (Moana and the Tribe, Shellie Morris and dancers, Breabach) but was often a mesmerising, theatrical production which – although doubtless prohibitively expensive – deserves a touring life beyond Womad.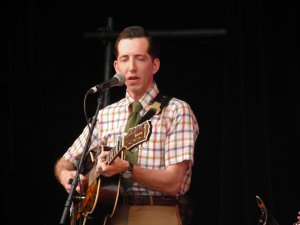 Hands-down winner and crowd-pleaser of the weekend however was Pokey LaFarge with his contemporary rejigging of vintage American styles (Western swing, country, old-time jazz) into laser-sharp and melodic songs.
If this Womad had a shortcoming it was many acts erred heavily towards crossover world music which pulled traditional styles into an amorphous and often undistinguishable partytime. In the face of all that percussion and crowd-pleasing excitement, the more traditional end of the spectrum (with a few exceptions) seemed rather ill-severed, although Sam Lee bringing old British folk into the 21st century was fascinating and popular
Mainstage acts largely offered regional variations of drum-driven dance (sometimes with dancers); Red Baraat from New York with their furious Indian Bhangra and jazz-funk; Mokoomba from Zimbabwe with slippery Afro-groove and jazzy manoeuvres; La Chiva Gantiva (boiling Colombian sounds) and Airileke from Papua New Guinea by way of Melbourne, who were a highpoint for their colourful and driving ethno-jazz rock. Dub Inc from France were among the best bringing populist reggae and ragga together with other influences.
The local 26-piece Balkanistas' original take on now familiar gypsy music was enormous fun.
Despite an absence of many years from public consciousness – they broke up in '96 and their reformations since have been sporadic affairs – US hip-hop group Arrested Development were warmly received on the final night for their consciousness raising set of mostly new material, propelled by a metal-edge guitarist. They were a late-in-the-weekend highpoint.
But much of this programme offered few of the surprises which make for a great weekend of music and memories.
The Chinese folk and rock band Shanren (who had an obligatory and tedious reggae number also) were short on vocal firepower and stage energy, locals Weird Together came off as little more than a multi-culti jazz school ensemble with dancers and Buika's afternoon set rarely justified the spurious Nina Simone comparisons she has had. It just all melted together into nothing much.
So this was a good but not a great Womad.
And as the old gospel song said, "My Lord, didn't it rain?
Well, not much actually.
Did it matter when it did? Of course. But at least there was an interesting soundtrack and a cheerful atmosphere to take the mind off any discomforts.
For more details on Womad 2014 artists with sound samples and Elsewhere's opinion simply go here.