Graham Reid | | 2 min read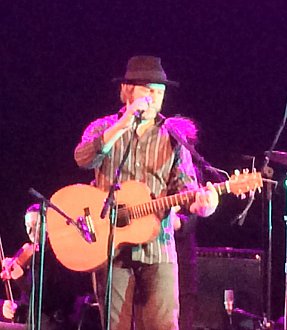 In his funny, insightful and barely disguised autobiographical novel The Big Wheel of 1990, Bruce Thomas – then the former bassist with Elvis Costello's Attractions – tells of meeting up with the Costello character after the band had broken up a few years previous.
The once acerbic, angry and country-punk Costello figure — whom Thomas simply refers to as The Singer – tells him that these days he is a folk singer.
It's a good joke and reflects what Costello was doing at that period, but inside many rock writer-performers there is a folk singer, in the broadest sense of that description.
It becomes evident of course when the machinery around them is stripped away and they present their work with just an acoustic guitar.
That was in evidence when Shayne Carter – formerly of Straitjacket Fits and latterly Dimmer and the Adults – opened this enormously rewarding and good humoured performance by SJD (Sean James Donnelly) who, with a terrific band and string quartet, played his recent Saint John Divine album in its entirety.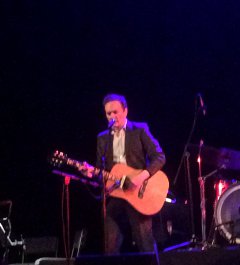 First up though a good natured Carter – initially plagued by a few sound issues — delivered an often fiery set with just an acoustic guitar.
Like an angry Costello fueled by the physicality and percussive power of Richie Havens (so much so there was a break while he went off to change a broken string), Carter spat out the politically inspired Short Changed which reminded you of John Lydon's line, "Anger is an energy".
It was an emotional power point he touched many times, and politics ("the Man") returned in his cover of Hendrix's If 6 Was 9.
And perhaps acknowledging the age of his audience offered up two Straitjacket Fits' songs, a furious treatment of Burn It Up from their '93 album Blow ("The third one when the dude with the glasses [Andrew Brough] left" and later a well-received Dialling a Prayer which opened their debut EP Life in One Chord almost 30 years ago.
But the standout was an extra-angular treatment of the brooding ballad What's A Few Tears to the Ocean? from Dimmer's '07 album There My Dear. Full of abrupt stops, unexpected chords and aggressively pulled notes, the formerly introspective and slightly Gothic song was progressively reinvented as something much darker and punchy.

If such complete reinvention wasn't what Donnelly had in mind when playing the complete Saint John Divine, it was clear that with a live band (also suffering some sound issues) these songs were going to come up more raw and rocking around the edges and – especially when guitarist James Duncan occasionally unleashed his inner Neil Young – something considerably more psychedelic.
That said, the malleability of the songs – from the chugging pop of I Wanna Be Foolish through the delicacies of Change the Channel and the lovely Was I Always Here at the end (given an even more acidic twist also) – made them frequently sound pleasingly unpolished and vibrant.
Barely pausing for breath they added a coda of Southern Lights, Bad Karma in Yokohama and a bracket of familiar songs from the SJD back-catalogue, the outstanding psychedelic spiritual Jesus featuring vocalist Sandy Mill in a rocking showstopper, so appropriate in an old theatre now used as a church.
The closer was the delightful Superman You're Crying, ending a night of great emotional, spiritual, cosmic and flat-tack-folk-to-tripped-out-rock musical reach.
Very special, and just a shame not more were there to enjoy it.
I kinda doubt Beastwars and Jakob just around the corner pulled many of SJD's audience.