Graham Reid | | 2 min read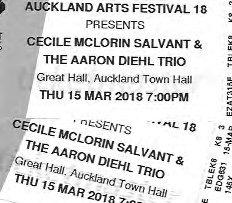 In the course of a lifetime you can see any number of great concerts and entertainers, but only rarely do you see a genuinely gifted artist, one so in command of their art that they make the difficult seem effortless, and the impossible achievable.
And if they can do it with humour, understated but pointed stagecraft and a remarkable voice you are tempted to say – as you might about New York-based singer Cecile McLorin Salvant – that you are in the presence of someone so memorable as to be unique.
With the masterful Aaron Diehl Trio, Salvant drew a surprisingly large audience to the Auckland Town Hall, surprising because despite her multiple awards including a Grammy for best jazz vocal album in 2016, she is hardly a household name here.
But on the evidence of this showing and doubtless the word of mouth from the crowd who gave her a standing ovation, she is someone whose reputation here was confirmed in her 100 minute show which opened with Cole Porter's All Through the Night and ended with an encore of Paul McCartney's And I Love Her given the necessary gender spin and which was deftly deconstructed by the trio.
Between those two points Salvant essayed material within the broad church of jazz – ballads (Peggy Lee's lovely The Little White Ship written by rock'n'roll songwriters Leiber and Stoller), old blues (Bessie Smith's Sam Jones Blues), torch songs, standards, a railroad work song (John Henry) and even a lengthy and dramatic reading of the aching narrative of Somehow I Never Could Believe from Kurt Weill and Langston Hughes' opera Street Scene.
In every instance Salvant sold the song because she is a storyteller who pays careful attention to a lyric.
The miserable, opinionated and often distasteful English poet and jazz critic Philip Larkin once said something to the effect that when writers described Billie Holiday's voice as like an instrument they overlooked the fact she was actually singing words.
He had a point, and while Salvant certainly uses her commanding voice and its astonishing range and flexibility like a saxophone, trumpet or clarinet, she never looses sight of the words she is singing, whether they be slightly kitsch (Bacharach-David's Wives and Lovers), funny (Blossom Dearies' tongue-in-cheek I'm Hip into which she dropped a reference to the disgraced Harvey Weinstein) or moving (Cole Porter's So In Love).
Her technique can be deliberately strident (Never Will I Marry) and so powerful that she could hold the microphone behind her back and was still heard in every corner of the Great Hall. But equally she could be childlike, blur bar lines and sing behind or ahead of the beat, and never once resorted to over-emotionalism or those Whitney-like ululations designed to impress but which are ultimately the triumph of technique over consideration.
Just the breadth of her source material confirms that Salvant is part of a long and diverse tradition which embraces Bessie Smith, Billie Holiday, Dinah Washington and Dakota Staton, among others.
But she is very much her own woman.
This was a rare evening from a gifted artist and her exceptional band was lead by pianist Aaron Diehl -- a melodically percussive player at times, spare and sensitive when required – who also took to the hall's massive pipe organ.
Throughout this concert the audience was silently attentive save for those bursts of applause after each number or following great soloing.
Cecile McLorin Salvant is today a household name in many Auckland homes and once the word spreads she could return and, at a guess, command the Aotea Centre.
And extraordinary artist, a rare evening of jazz, blues and beyond.
Cecile McLorin Salvant's most recent double live album is reviewed here.