Graham Reid | | 12 min read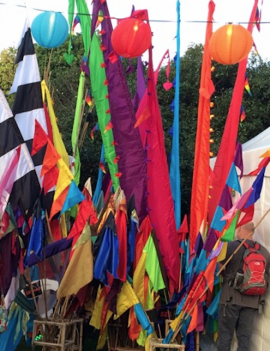 There's an interesting performance area at the Womad festival in Taranaki which most people just make a passing glance at. It's a steep bank on the side of the Bowl of Brooklands beneath the path which leads to the tiny Dell Stage and the front of the main TSB Bowl.
Here low branches hang from trees and so kids by the dozen gather there and dig up the dirt to make holes and slides, climb up and swing on the branches and generally get dirty and have great fun.
They destroy the place of course, but they are kids doing what kids do . . . or, as many might say, what kids used to do.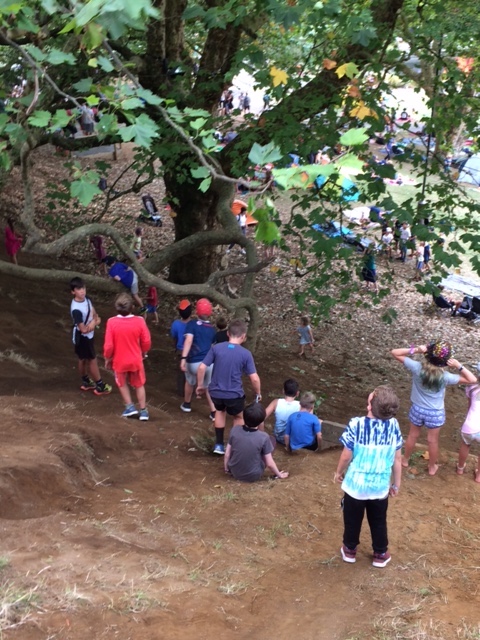 Anyone who stops to take 10 minutes watching will see –- especially if they are aware of the famous Michael Apted documentary series Up which started with seven-year olds in Britain and followed them through life – all manner of familiar behaviour patterns: the adventurer, the sharer, the selfish kid, the loner, the bully, the organiser, the team player . . .
It's an area which becomes the informal Kidzone and is well worth taking the time to watch what is going on.
But people don't go to the Womad festival to watch others, do they?
Indeed they do.
It is a place to people watch and to be watched, particularly if you enter into the spirit and go the full dress-up in angel wings and glitter (on tiny girls through to their grandparents), tutus which were endemic this year (on men and women alike), vividly colourful clothes, ribbons in your dreadlocks . . .
The audience can often make many of the artists who come from all around the world seem rather drab.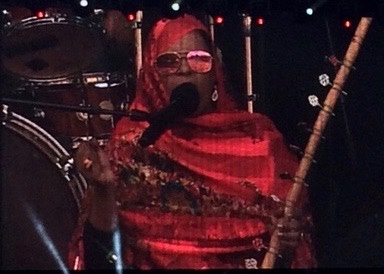 But Womad is, of course, about the music and as always there were some breathtaking acts this year.
My standout was on the main TSB stage playing early on Sunday evening to a much smaller crowd than they deserved.
It was Islamic singer Noura Mint Seymali and her band from Mauritania, whom I had barely heard a note of before they played.
Her thrilling, powerful and often spine-chilling voice soared into the sky as she sang songs of praise, broken love and calls for peace.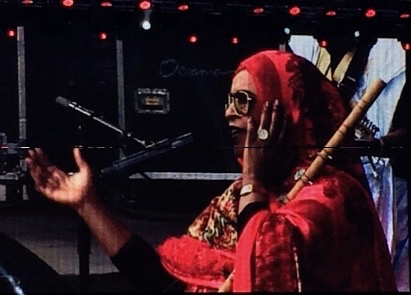 What made this all the more extraordinary was her genius guitarist/husband Jeiche Ould Chighaly who effortlessly peeled off furiously melodic licks which were – for want of any other description – psychedelic in that they were consciousness-changing and elegantly embellished.
The band also included the world's most laconic bass player in Ousmane Toure who sat virtually immobile, with a mask-like and emotionless demeanour for the whole show but let his nimble fingers pull seriously deep lines and funk out of his instrument (right-handed , stringed upside down), and drummer Matthew Tinari who was intuitively plugged in to everything going on around him.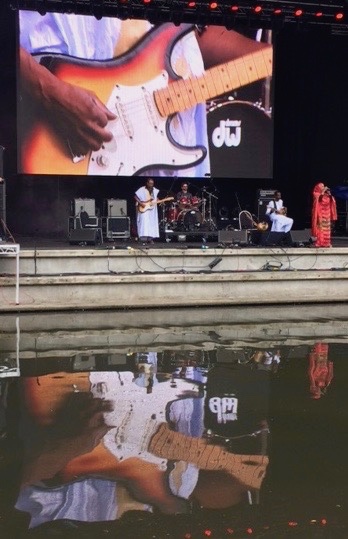 It was the most astonishing performance and one of only two performances over the weekend I stayed the duration for.
Because of needing to see other acts and do interviews I often had to leave some acts two-thirds the way through . . . but I did not want to miss a second of Seymali and her band.
The other who kept me was the equally exceptional Tinariwen (originally from Mali) who played to the packed Todd Energy Brooklyn stage crowd and -- through uplifting music, singing guitar lines (from three distinctive guitarists each taking centre-stage) and urged on by their cheerleader/dancer (the Bez of the band if you get the Happy Mondays reference) – had the audience on its feet right from the start.
Their style of music has often been called Sahara blues or desert blues as originally it seemed to have a reference point in tough Chicago or Southern blues players. (In truth they had come to this style independent of hearing that music)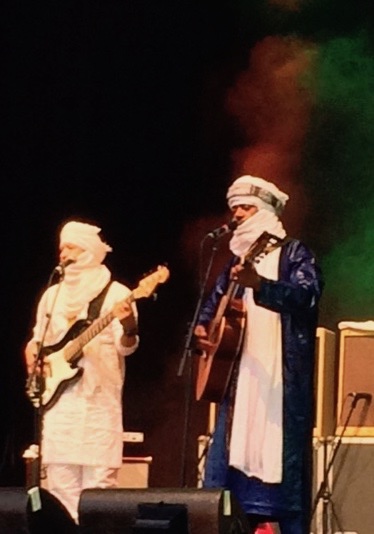 But on this night with the driving beat, verse-chorus structure, powerful rhythms, the interlocking bass, rhythm and lead guitars, it was pointed out to me (by my astute wife) that they often seemed closer the Rolling Stones of early Sixties and their take on black blues. It was trance inducing r'n'b rock, and utterly compelling.
But where Chigaly in Seymali's band pulled out long and extemporised solos, the Tinariwen players kept everything close to the groove with small but pointed filagrees and flourishes while the beat went on and on to keep the trance element intact.
Tinariwen deserved the main stage over Rodrigo y Gabriela who held it immediately afterwards as the headliner on the Sunday night (more of them soon) and Seymali and her band deserved a bigger audience (many of whom seemed to have stayed on the upper ground for food, drink and/or the Miltones).
Among the other exceptional acts over the three days (Friday Night, noon to late Saturday and Sunday) was Anoushka Shankar who – with electronic drones and beats, a piercing shenai player, a hang drum/percussionist and keyboard player - delivered a set which blended traditional Indian classical music and contemporary electronica into an uplifting, mesmerising and danceable melange.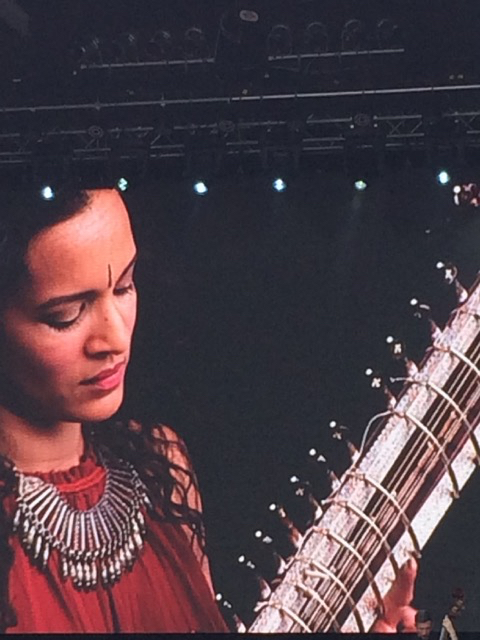 If I hadn't wanted to get down front for Kamasi Washington on afterwards at another stage I would not have left my spot.
(Note to the gentlemen near me who complained that it wasn't "traditional". She's been doing this crossover style for over a decade now.)
And what of Kamasi Washington's much anticipated sole set on Saturday afternoon?
When he and his powerhouse band of astonishingly talented and energetic members hit their stride in some churning amalgam of Coltrane's "sheets of sound", Sun Ra's cosmic fusion, James Brown funk (held down by the exceptional bassist Joshua Crumbly) and Weather Report they were unstoppable and joyously rocking.
Best jazz ensemble on the planet at those times probably and were received rapturously by the huge crowd as such. But it should also be noted that there were periods where the set lost momentum, as when Crumbly took a lengthy and spare solo which seemed to take forever to rebuild the energy.
Few would have gone away disappointed but for my money his showing at Auckland City Limits two years ago was a far more enjoyable, exciting and focused performance.
For me, what I caught of Pat Thomas and the Kwashibu Area Band from Ghana was their equal, full of unleashed energy and polyrhythms, fatback bass and focused funk and with terrific references to Ghanaian highlife.
Wish I had seen much more of them on that main stage.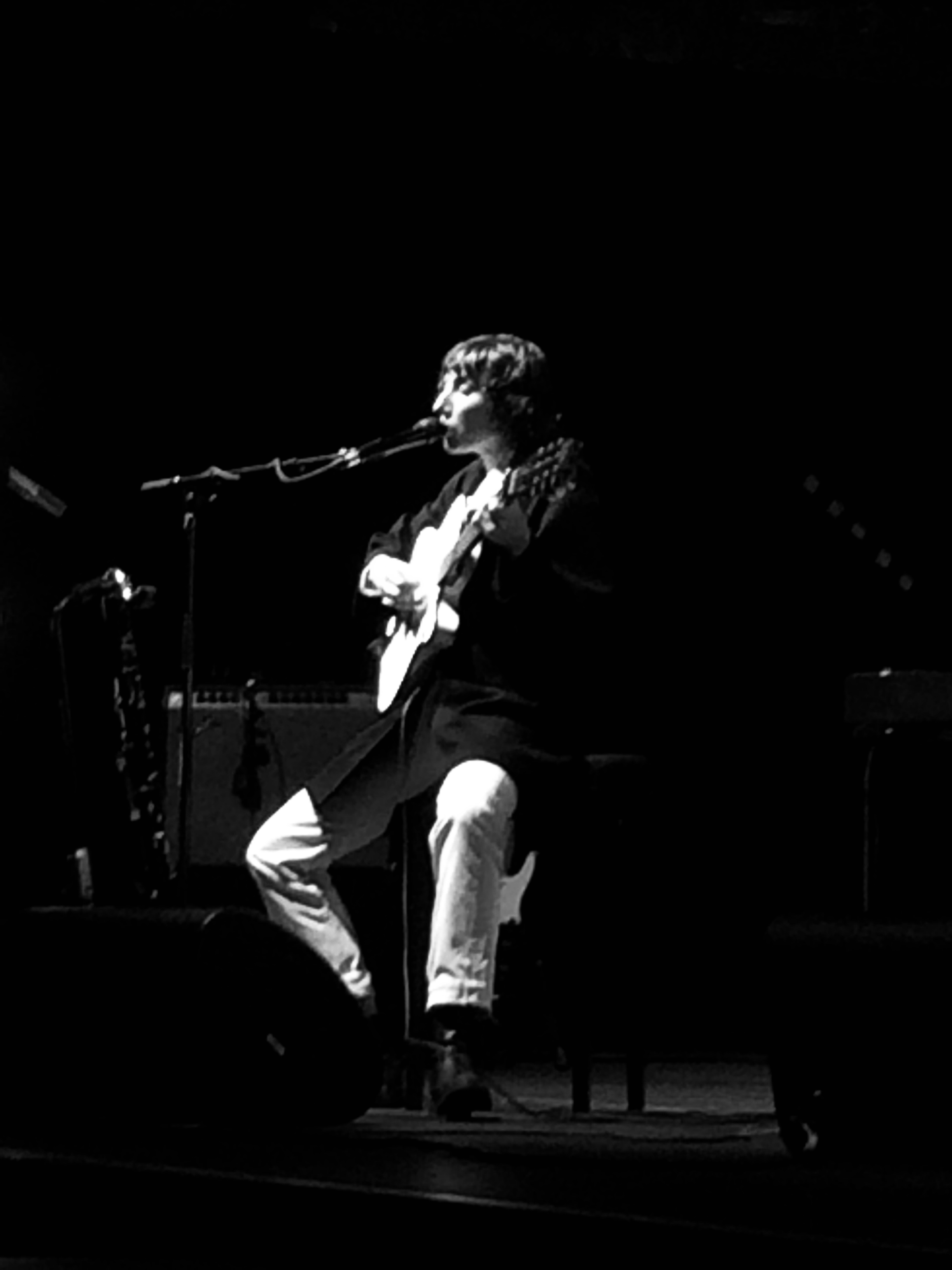 One who struggled on that stage was Aldous Harding on the Friday night. Her quite, intimate and deeply personal style demands (and usually commands) attention but faced with a body of water between her and the front row then the great sweep of the amphitheatre her utterly spellbinding set was lost on most. Right at the end I went up to check out the crowd and she received rapturous applause from those at the front and dead air from those further back.
Hers is not music (yet) built for this kind of setting and she was much better received when she played a smaller stage on Saturday night.
It was however an odd occasion – and oddly received in some some quarters.
Again there was a sense of great anticipation but after three songs where she sat with guitar, many around me began to lose interest and talk (rather than walk away?!)
When saxophonist Callum Passells joined her someone yelled out "Goooo Callum" and Harding, visibly frustrated by the broken mood of intimacy, paused and then in a mock whisper-shout said "Goooo Aldous".
She wasn't smiling.
The show had been announced as her final concert for the year while she concentrated on recording, and she observed without much emotion and in oddly unusual multiple negatives, "I can't say I'm not unhappy with that".
As the blather and jibber-jabber around me got louder I walked away, as disappointed for her as I was for myself. When she was joined by Hopetoun Brown (formerly the horn section of Supergroove) people's attention was again grabbed a bit. I didn't hear it but was told later some wag yelled out "Scorpio Girls", the name of a massive Supergroove hit.
I can imagine how she felt about that.
Hearing that Aldous Harding was an award-winning New Zealand artist, perhaps many in the audience unfamiliar with her work presumed she would be pop (or heaven forbid, reggae) and a crowd pleaser?
In the Womad context her genre became more clear, she is more along the poetic folk axis (even maybe more akin to those serious French chanson singers) and so rewards careful listening. That was not something many were prepared to give her. I guess they couldn't hear The Hit.
It was unfair on her, but then again, she signed up for the gig.
(It's worth noting I observed much the same at her Laneway appearance, and you'd think that younger and more attuned audience would have known what they were in for.)
Ironically then My Bubba – two young women from Sweden and Iceland – who sang barely above a whisper were greeted with a hush in the Dell Stage area immediately afterwards (and again the following afternoon).
Their charming, droll and gently tuneful marriage of pop and folk – even when one song was in Swedish – won the audience immediately with their their opener, a soft clapping song which they jokingly observed was based on similar Samoan performances, and this was as close as they had ever been to Samoa.
Their songs were delightfully understated and their stage patter, such as it was, seemed equally guileless (although they've been together for a decade so it is all more studied than it seems).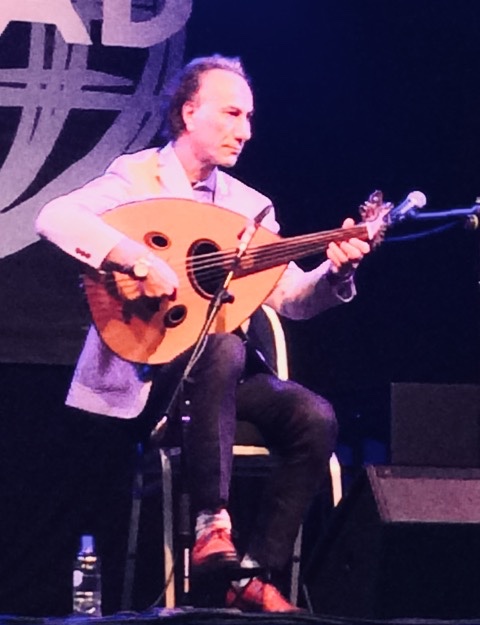 The Dell Stage (where perhaps Harding should have played?) had many acts which offered a respite from the dance and energy elsewhere, not the least the wonderful set by the Rahim AlHaj Trio from Iran (Grammy nominee AlHaj on oud, with master santur player Sourena Sefai and percussionist Issa Malluf).
This was truly hypnotic music from the heart which reached back to ancient Sufi traditions but also was grounded in the contemporary world of Iraq (from which he had fled during the Saddam Hussein regime) and his famous piece Fly Away – which he has recorded with American guitarist Bill Frisell – is about his feelings on his return to Baghdad after the regime was overthrown.
It was an extraordinary set – repeated the following day to similar appreciation on a larger stage.
Also in the Dell were New Zealand's Black Quartet (in truth a five-piece in white) who provided a deft mix of classical pieces, minimalism, material by Jeff Buckley, Bowie, and nods towards the quirky style of the Penguin Cafe Orchestra.
Well received but little that was challenging or unfamiliar. Pleasant.
I didn't catch the furious energy of Chilean guitarist Nano Stern and his band in the Dell but his set on Sunday afternoon on a larger stage was a real highpoint of playing, humour, serious content, rocked-up Chilean folk and originals, and joy.
His was an object lesson in how to build a set by dragging people in through hand-clapping, pointed commentary between songs (in English) then foot-stomping exuberance. Few would have understood any of the Spanish but he was one of the great communicators (a delight to speak with also) and he held the audience the whole way.
He promises to be back and we would hope sooner rather than later.
As we would with three wonderful but different women and their bands.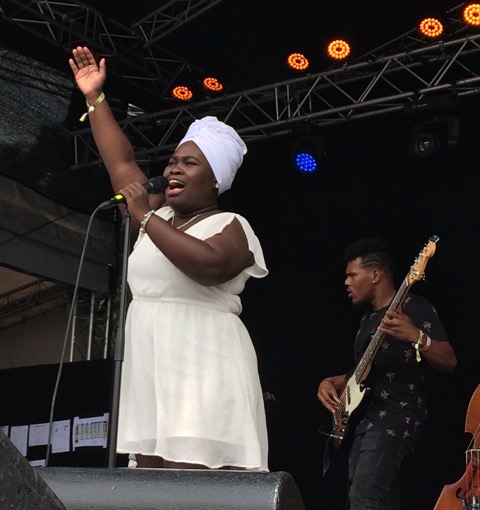 Cuban Dayme Arocena might be short in stature but the 26-year old was a ball of energy and humour, and when the band kicked in on the first number with some fiery jazz-funk it was if they were announcing "this ain't no Buena Vista baby".
They improvised around the rhythmically complex tunes – she is classically trained and loves jazz – and had the crowd dancing from the get-go. Wonderful.
More hesitant to start with was the Orthodox Jewish woman Victoria Hanna and her band who hit their stride after a couple of songs in with a mix of rap-funk in Hebrew but a very clear and announced religious component which held the crowd, even the young people a little worse for the wear for their day in the sun and with a belly of booze.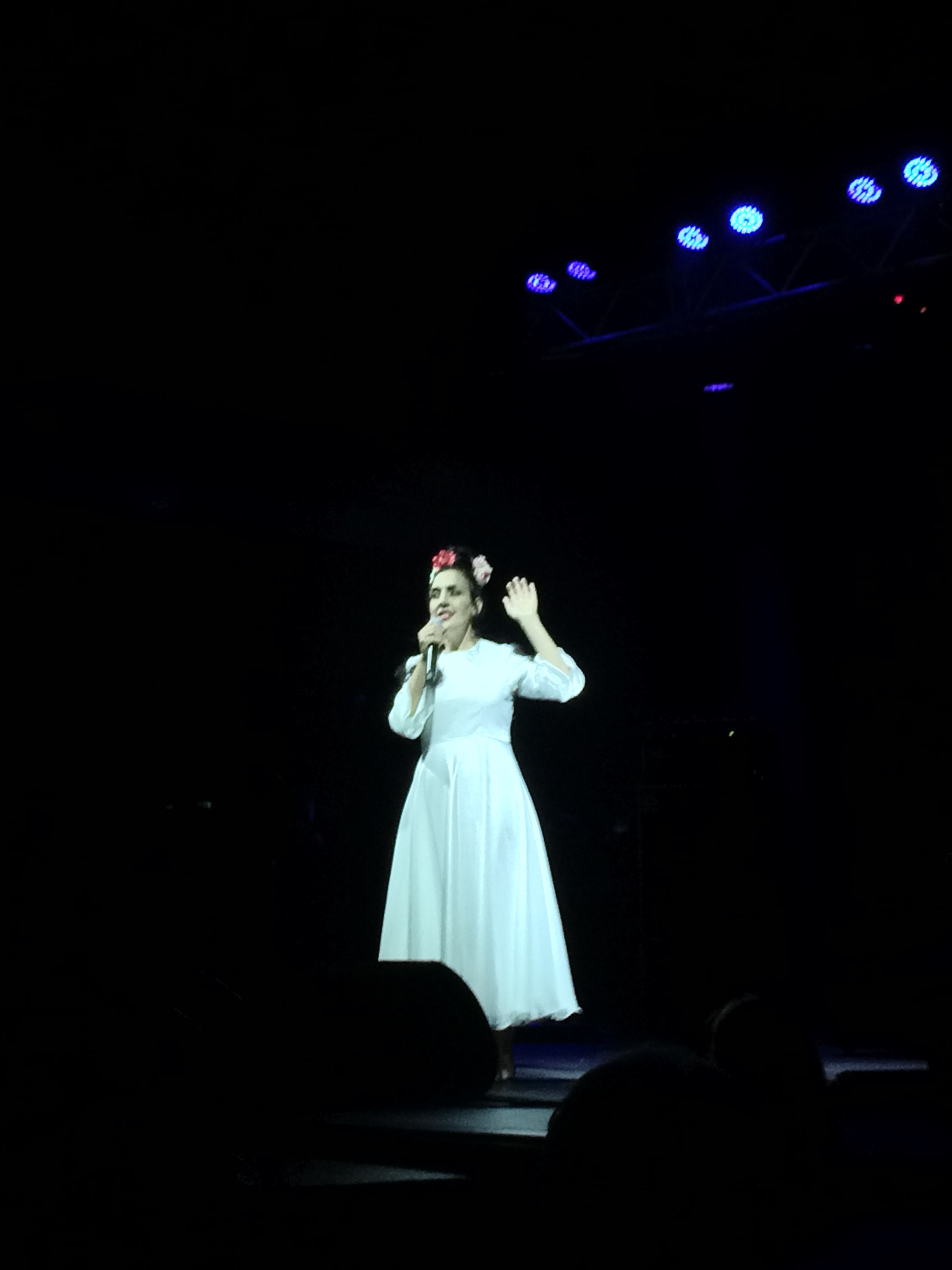 Hanna – also dressed in white as was pocket-rocket Arocena – spoke of the voice as a holy instrument, explained how the sounds of the Hebrew alphabet have mystical qualities, sang a piece from the Song of Songs and brought the Kabbalah and songs in Aramaic (the language of Christ) into the contemporary world.
It seems a hard thing to imagine, but in this sole showing she got stronger and stronger as the set went on (sound problems initially) and it all made a strange kind of sense.
Also powerful was Lebanese singer Ghada Shbeir who sang classical Arabic songs drawn from the Arabo-Andalusian tradition (Arab songs from the time of their occupation of Southern Spain) and more.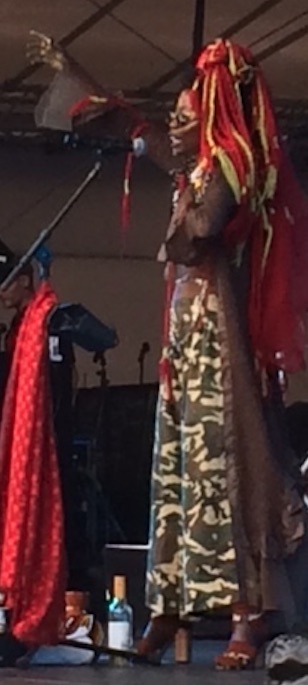 More visually colourful than them all – indeed more so than probably anyone on the site – was Ghanaian born Jojo Abot who in real life is slight but on stage seemed like a towering vodou/voodoo priestess-cum-commanding Grace Jones icon with dreadlocks braided with coloured ribbons, high-high heels, striking eye make-up, fingernails like talons and . . .
She, a woman dancer and her band served up a thumping set of Afro-infused hip-hop, chant-down rap, and empowerment politics and dance which referred to Zulu moves as much as New York street culture. It was impossible to look away and was a strong link to her performance art, eye-catching videos and streetbeat influences.
And what of the rest that I caught?
Dragon played the main stage . . . but what is Dragon today?
Fronted by Mark Williams they did a decent set – Williams even singing his solo hit Yesterday Was Just the Beginning of My Life – but by most definitions they are a covers band with one original member, bassist Todd Hunter on whom the camera barely lingered.
What, if any, fire in a band we once knew as Dragon has gone out.
An embarrassing pension/nostalgia programme.
Havana Meets Kingston also on the main stage were of course popular because they did exactly as their name says; Rodrigo y Gabriela on the main stage as the final act on Sunday did what they do, acoustic guitar playing full of fury and fire, always astonishingly technical, driving and percussive. But you conclude that after 10 minutes and then it remains much the same. Not even a digression into Take Five later shifted that impression.
Although undeniably popular – they have been to New Zealand before – they seemed miscast on that big stage as the last act of the event when people might have wanted more dance and less, "Gee they are gifted, huh?".
Maybe Chico Trujillo from Chile who had played the same space earlier to a good reception might have been the stronger choice?
Because of interviews scheduled – which will be published at Elsewhere in the coming week – I didn't see enough of Hopetoun Brown and the Miltones, but each pulled big audiences and were impressive (smart move of HBrown to play an impromptu set in the CD signing/mechandise tent!); Maisey Rika and friends (Troy Kingi, Seth Hapu and Horomona Horo) were very good but there seemed a lack of focus when Horo commanded many of the songs and stage patter, and Kingi also got a spot.
Singer Blick Bassy from Cameroon (on banjo and trumpet) was a fascinating if undemonstrative mix of traditional and contemporary African music and old American blues; and the Spooky Men's Choral were interesting but the a cappella idea wore thin except when they did a stentorian piece from Georgia or engaged the audience with their take on a pop tune . . Of others I cannot say, saw, walked, went hmm okay yeah …
But a special mention to Violins Barbares variously from Bulgaria, Mongolia and France.
Their chance meeting through the agency of Yo-Yo Ma's Silk Road project has paid off handsomely for them with music which brings together throat singing and traditional sounds which, although thousands of kilometres and many decades apart, exists on much the same latitude -- a testament to how sounds travel around this world and artists from diverse culture can find common ground.
That seems to me to be what a Womad is about: different people – artists and audience – finding common ground in music.
That, and kids off the leash and just being kids in the dirt under those big trees.
For interviews with artists at Womad 2018 start here