Graham Reid | | 5 min read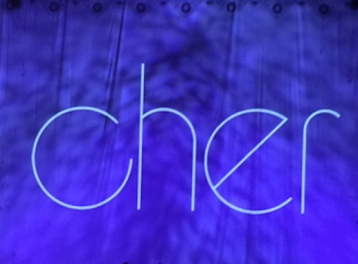 You have to admire Cher, she might not be able to turn back time but she can certainly freeze iconic moments from her illustrious past.
Take the closing overs of this 100 minute concert-cum-theatre production at the Spark Arena, Auckland when it was clear the clock was ticking and she had yet to play her two identifying songs: If I Could Turn Back Time (from '89) and Believe ('98).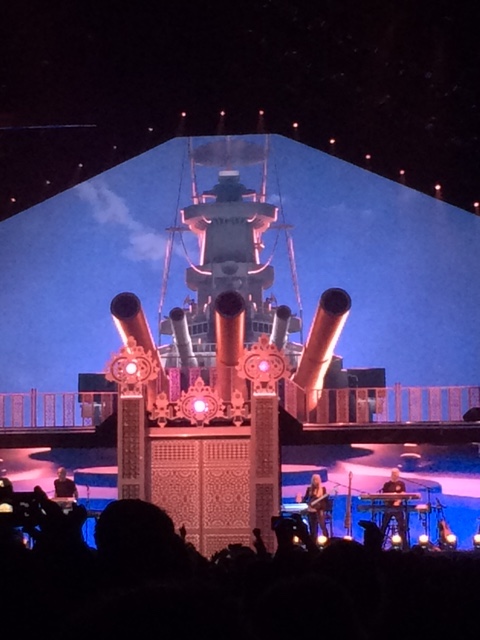 As she went backstage for another costume change – I gave up counting how many but each was as spectacular as any other – the back-projection showed battleship guns being lowered, a visual signifier from that classic Turn Back Time clip.
Then out she came in a figure-hugging body suit and leather jacket, just like all those years ago.
Say what you will about the face-lifts and so on, the woman still has a remarkable body and although she didn't strut quite like she did 20 years ago she still nailed the anthemic quality of the song, key change and all.
It was emblematic of this whole production . . . because Cher understands one thing about herself and her audience: people don't come to see Cher Now.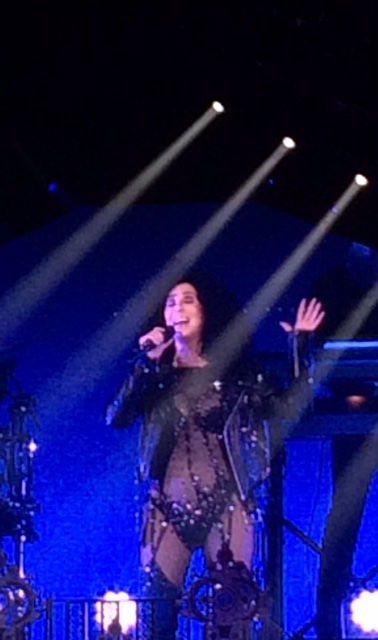 They want Cher Then.
They want the great songs from her past – and she went right back to Sonny and Cher days -- they want her to look like the Cher from television, fashion shoots, album covers and video clips, they want Cher the Image.
And Cher (who does Cher better than anyone) delivers on all of this as she pushes those buttons to time-travel to back when . . .
In a sense this is Cher as Nostalgia but wrapped up in a high-end production which at times seems one part celebrity guest interview (as when early on she told a long but funny story about being invited on Letterman), a thick dollop of a Vegas production (you could imagine long after she's gone this could translate straight to the Mirage with a revolving cast of drag queens and impersonators *) and a significant chunk of Cirque De Soleil with dancers (nine at one point), trapeze stunts and so much more eye-candy.
Although the real candy is Cher in strong vocal form – that deep vibrato intact, the Autocue deployed when required – and presenting herself in multiple costumes . . . which did mean for about half the running time she was off-stage while video clips, montages from the Sonny and Cher Show, her movies and such carried the momentum. But even these were interesting, more so than Beyonce's relentlessly self-aggrandising concert-filler footage.
This was a pop-rock concert as celebration-cum-party . . . and the fun began before she hit the stage when a hilariously camp DJ – all strut, pout, fluttering hands, air guitar and imaginary piano – entertained with a crowd-pleasing classic hits set which included Tina Turner, Aretha Franklin, I Will Survive (of course) and Jerry Lee Lewis' Great Balls of Fire.
Oddly enough the Beatles 55-year old Twist and Shout got a better reception than Aqua's Euro-pop hit Dr Jones which was quickly curtailed through lack of interest.
And around the almost-capacity Spark Arena – the second of Cher's two-night stand – there were pockets of young and older women getting it on like they were at a hen party.
The enthusiasm and sense of expectation was infectious . . . and then, after a preamble of a visual montage of Cher and It's a Woman's World pumping out suddenly there she was, Cher as an Egyptian-cum-Amazon singing Woman's World, then Strong Enough and All or Nothing.
She looked astonishing and sounded even better than expected.
And so the night, the backdrops and costume changes rolled out: Indo-exotica when she came out on a papier-mache elephant, something between Native American music and Hawaiian dancers for Half-Breed; a cabaret backdrop for Burlesque . . .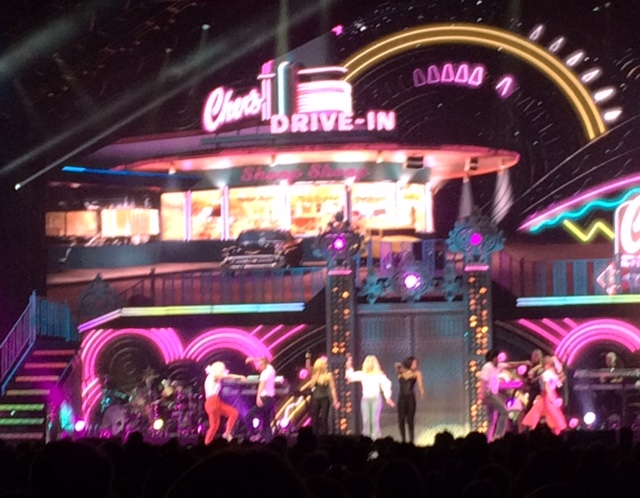 There are Elvis allusions and imagery (Cher dressed as the King in clips) for Walking in Memphis against a faux-Beale St tableau; a carnival setting for Gypsies Tramps and Thieves and Dark Lady . . . . . .
What cynics often don't see in Cher is her humour.
When the montage of images and clips from the Sonny and Cher Show roll up (and she is off getting into glittery bell-bottoms) you can't help but laugh along with the sheer stupidity and tackiness of it, just as she did then and now.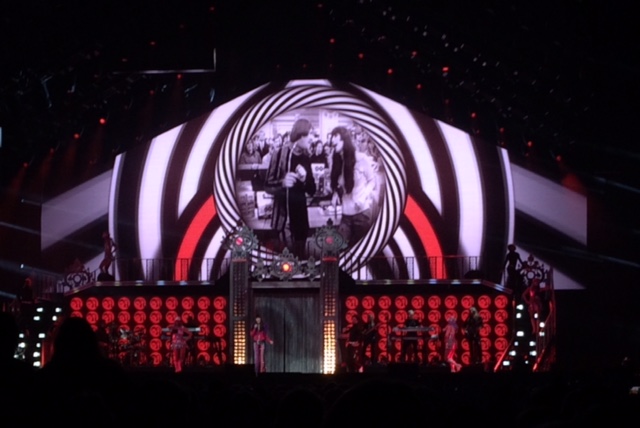 In her brief anecdotes – the Letterman one was kinda long – she skewers herself (the passing reference to her short-term lover Rob Camilletti) and her public image . . . and yet at core there is a self-effacing honesty, fundamental decency and loyalty about her.
That manifests itself when she takes herself and audience back to the Sonny days when the soundtrack plays Little Man as loving and funny images of Sonny roll out, and she sings a duet with his disembodied voice I Got You Babe . . .
The flipside of the long history is where she is at now and a bracket of Abba songs – she is in the new Mama Mia movie and appears on the soundtrack – which brings the crowd to its dancing feet. But let's be honest, it is the songs and not Cher being celebrated at this point, the familiar hands-in-the-air from parties past, from clubbing nights when people in this crowd were young . . .
This is sometimes received nostalgia which doesn't come cheap . . . but of course this was a night when Cher Now looked back to Cher Then and delivered, with a five-piece rock band, dancers, high-end production values and a sure understanding of what her people want from her.
Her final number is, inevitably, Believe and as with so many songs on the night, the audience sings it back to her.
But her voice as much as the costumes is what you take away: she still conveys that deep resonance and power on I Got You Babe, that vibrato fills the cavernous room on the big ballads, and it just sounds a whole heap of shamelessly retro-fun on The Shoop Shoop Song.
Cher is an entertainer, albeit a rare one who has won a Grammy, an Emmy, an Oscar, a bunch of Golden Globes and so much more.
And the remarkable thing about this 72-year old is that Cher Now is so remarkably similar to Cher Then.
And not just because she has had "work" done.
* A "Cher" story:About 13 years ago my wife and I were in Victoria, Canada having dinner with some friends in a restaurant on Herald St. By chance our friends mentioned that Cher – whom I had never seen and always wanted to – was playing at a nearby stadium that night, a place which went by some appalling name like the Budget Discount and Dollar Bargain Stadium.
We were laughing about this when there was some small commotion at the doorway and I turned around to see Cher walk in the room, still in one of her dramatic stage outfits with full wig and regalia. She surveyed the room with a haughty stare then made her way to the bar. And then another Cher came in the door, in a different stage costume but equally striking . . . and so it went.
About half a dozen Chers – all beautiful two metre-tall drag queens – came in after the show . . . and were a show in themselves.