Graham Reid | | 5 min read
Back at the dawn of recorded time, 1971 in fact, I saw Elton John's first New Zealand appearance when he played at Western Springs.
And there were a few worrying moments last night at Mt Smart when I thought I might be seeing his last.
Fresh from playing the Mission Estate show the previous night Elton and his crack band – dark suits, white shirts, skinny black ties – took the stage exactly at 7.30pm as advertised and immediately launched into a thumping rendition of Bennie and the Jets then All The Young Girls Love Alice.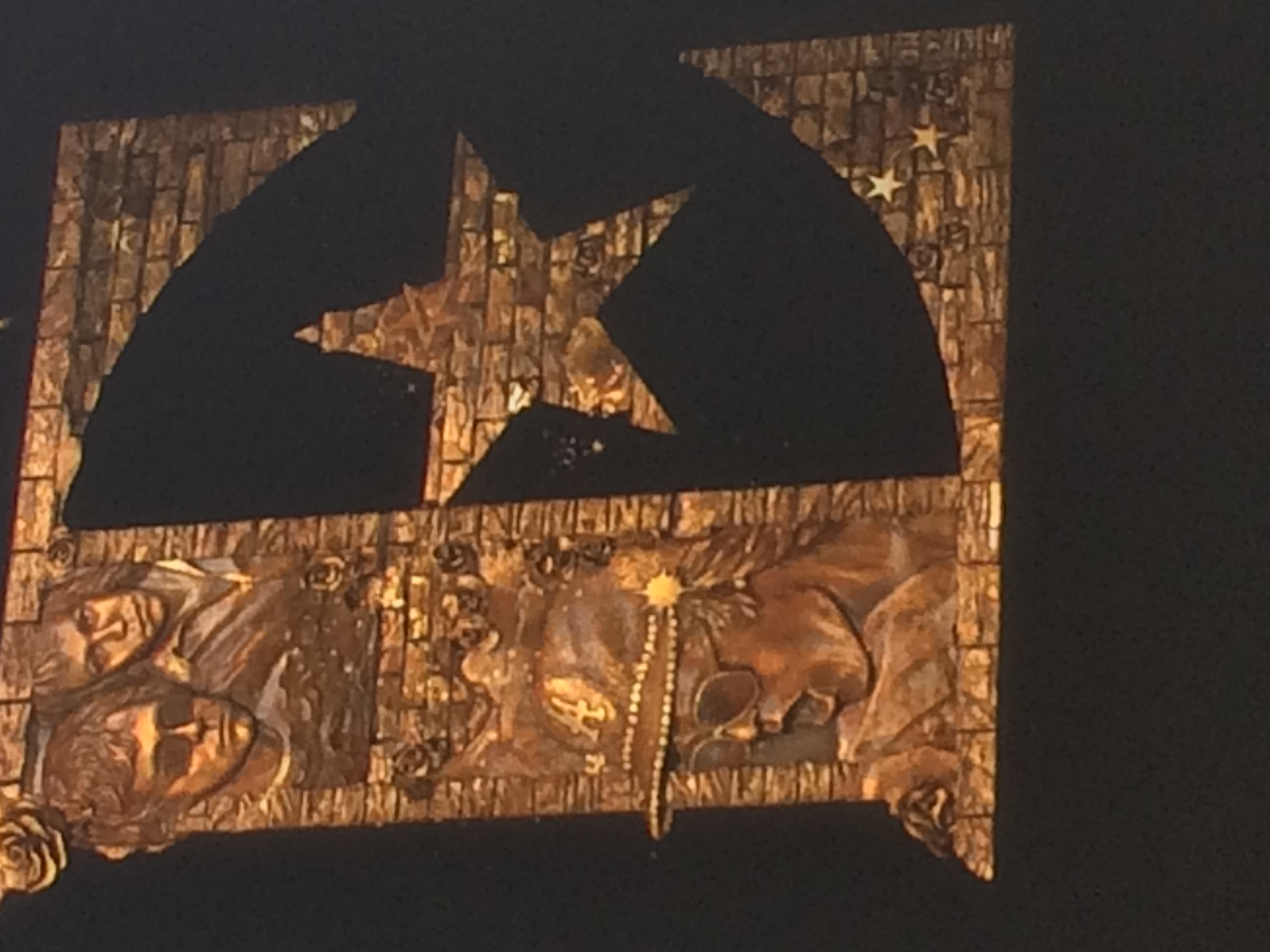 The crowd was on its feet, the music terrific and Elton – shorter and more portly than expected, in an elegant black, gold-trimmed frock coat and gold shoes – seemed to be ready to rock on this first of a three-night stand at the stadium, rounding out his Farewell Yellow Brick Road Tour for New Zealand.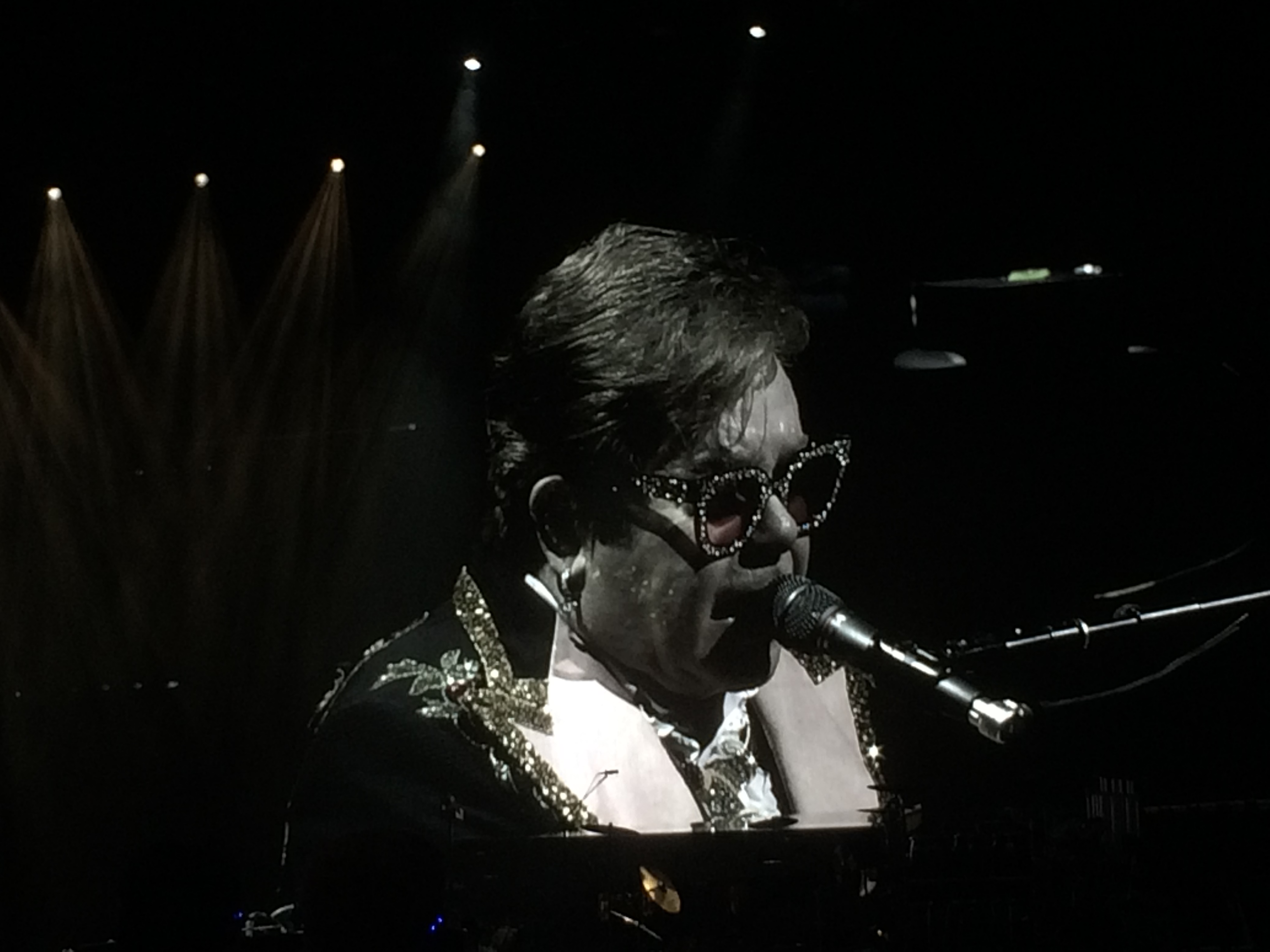 And then, somewhat breathlessly he announced that he had been diagnosed with "walking pneumonia this morning" and he would just try to do his best although his voice might not be the best.
Had he not said that I doubt anyone would have noticed. Yes, a little frayed in the tops but he's 72 so you'd expect that. The power was still there.
Before a backdrop of poignant photos of couples of all ages looking estranged or distant he undertook I Guess That's Why They Call it the Blues and then, after talking about his long relationship with Bernie Taupin and how they were encouraged when Aretha Franklin covered the next song. It was the superb Border Song ("Holy Moses I have been deceived").
At no time did Elton's voice seem diminished by whatever was ailing him but as images on the backdrop flashed up Little Richard and Jerry Lee Lewis you were reminded that Elton came of musical age in the Sixties, the decade of the guitar hero.
Yet he, almost out on his own, brought piano back to centre-stage in a way which hadn't been seen since those Fifties rock'n'roller of that previous generation.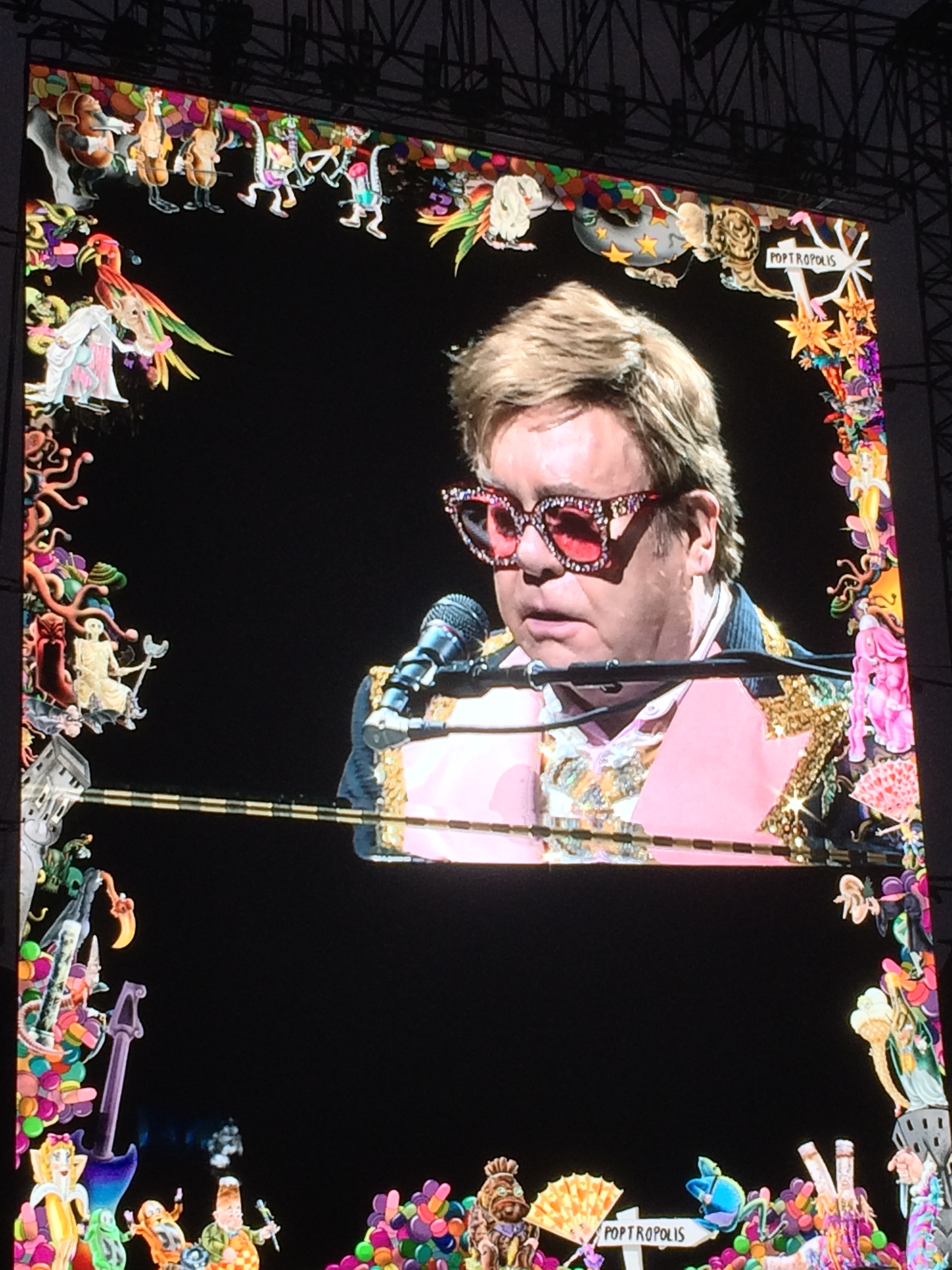 These days he's not going to kick away the piano stool during Burn Down the Mission as he did most memorably at that Western Springs concert to push the act up a couple of notches, but his rolling melange of boogie-woogie, a few classical tropes, hammering rock'n'roll and influences from Fats Domino (among others) drives Bernie Taupin's lyrics and these classic songs.
After the hugely popular Tiny Dancer and Philadelphia Freedom (during which he was visibly uncomfortable and sweating profusely), he paid tribute to that 53 year professional and personal friendship with Taupin explaining how that relationship worked . . . before embarking on the epic Indian Sunset as a duet with venerable percussionist Ray Cooper whose precision playing was matched by his expressive gestures.
It was an extraordinary performance by both, made more so knowing Elton was starting to struggle.
Then it was the ever-popular Rocket Man of which Taupin said decades ago, "[It] was a drugs song! Nobody but Elton could have sung that without getting banned from radio."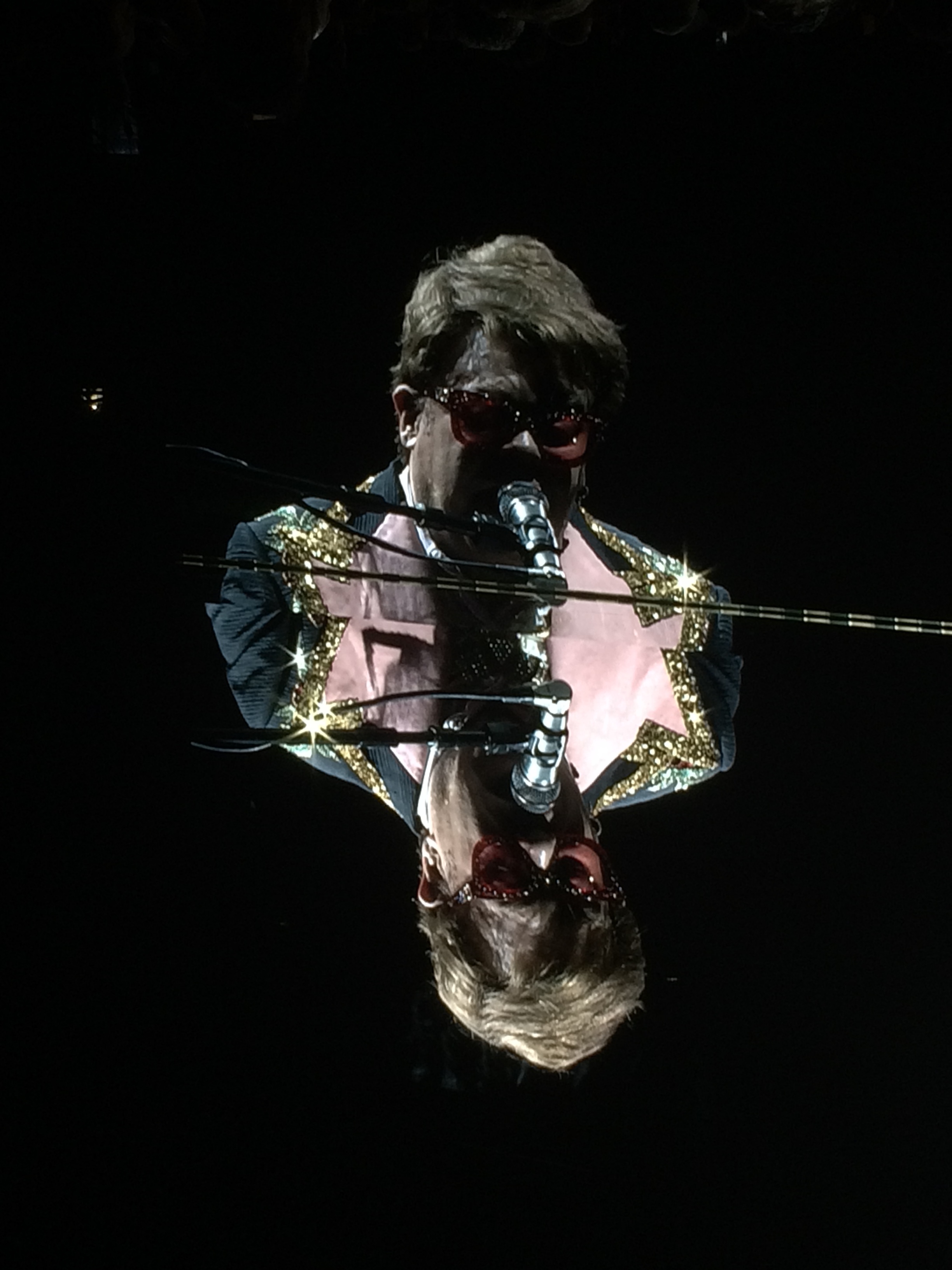 And that reminds of the durability of the John-Taupin songs and how – like Tiny Dancer enjoying a revival after the film Almost Famous – they are adopted by the audience.
After an hour of remarkable music propelled by the band of longtime fellow travellers Cooper, guitarist Davey Johnstone and drummer Nigel Olsson who have been with hm since the early Seventies, Elton's voice was becoming increasingly worn although still powerful on Sorry Seems To Be The Hardest Word.
After Someone Saved My Life Last Night (which he described as the most personal song on the Taupin/John autobiographical Captain Fantastic and the Brown Dirt Cowboy album) he was spent. Literally.
For five minutes under the spotlight he was talking with medics, having his blood pressure taken and it seemed this show might be over.
It was an odd moment: people wanted to hear more, but at what cost to the artist? A few of the more ghoulish pushed to the front to get photos of the moment, but the stadium was mostly silent with concern . . . then roared its approval when he resumed.
And how he resumed!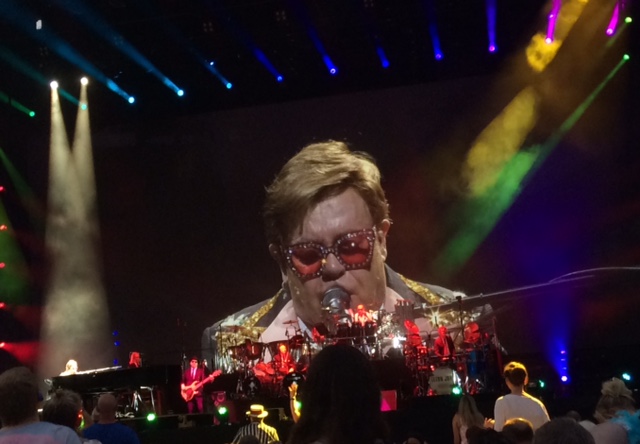 This struggling septuagenarian leaped into a swirling treatment of Levon which became a 15 minute hard rock tour de force of singing and playing by Elton, guitarist Johnstone spinning out a spectacular solo which briefly nodded to Daytripper and Saturday Night's Alright For Fighting before bringing it back to Levon again.
This was heroic professionalism and although afterwards -- despite some muscle posing -- he admitted he didn't have anything left, he went into Candle in the Wind (the original version with Marilyn images on the screen) as the piano gently glided across to the other side of the stage.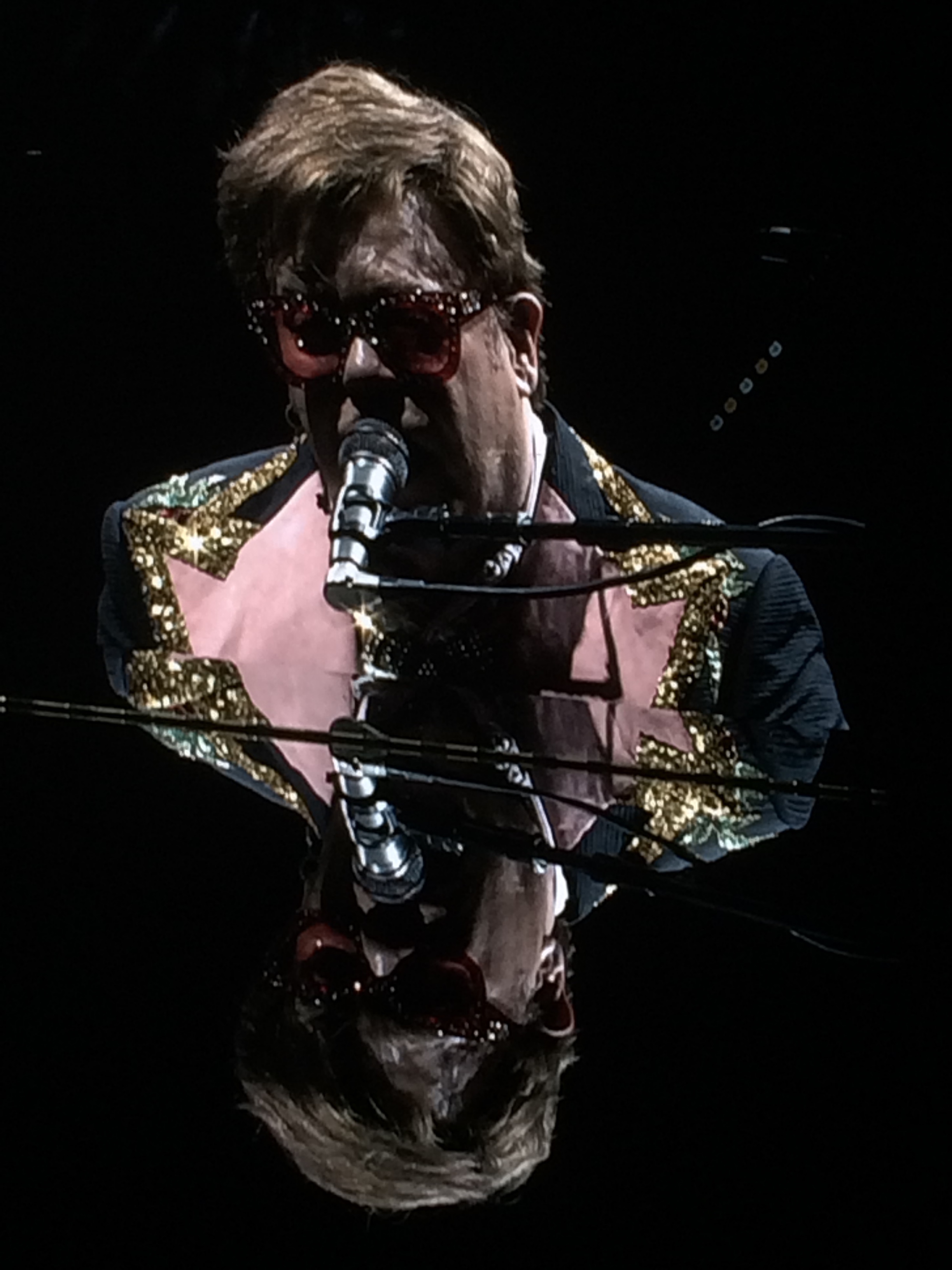 But then he was truly worn out.
He left the stage breathless and again the audience waited in trepidation, you sensed not for concern about missing out on what it had paid for but for this beloved entertainer.
But back he came in a different (and visibly lighter) outfit for an extraordinary Funeral for a Friend/Love Lies Bleeding, another extended and energetic 15 minutes.
But when he tried to sing Daniel his voice was gone completely and, in tears, he apologised hoarsely, "I'm so sorry, I'm so sorry" and was assisted off.
Headlines flashed around the world that he'd left the stage ill but there was another and more important story. That Elton John had delivered an extraordinary 100 minutes of classic music during which you might barely have known he wasn't well.
As people waited – very few around me left – the sound system played Don't Go Breakin' My Heart and people sang along.
He didn't break hearts or disappoint, Elton is probably more disappointed than most.
Will that be his last New Zealand concert?
Frankly I doubt it. No one that heroic and professional, who puts themselves through that to deliver a show which didn't compromise until it could go no further, will want to disappoint those who have booked for his next two Mt Smart shows.
Thinking back to that Western Springs concert almost half a century ago reminds you – in these often dark days – what a remarkable life and career Elton John has had.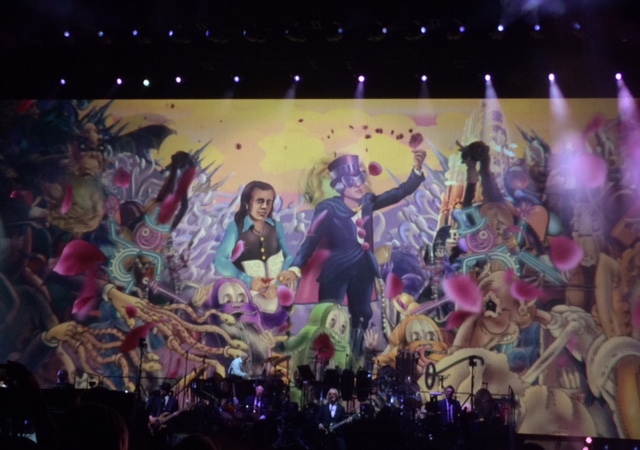 From pop and rock star to flamboyant stadia filler in increasingly outrageous costumes, admitting his very public battles with addictions and insecurities through the mostly dire Eighties to mainstream soundtracks (The Lion King) and Vegas, rewriting an anthem which captured the spirit of many around the world after the death of his friend Princess Diana to the much loved entertainer who is settled, married, has two children and is a knight of the realm.
That is a life.
For all that, and now for a courageous concert appearance, we salute a rare talent and man.
I suspect most there at Mt Smart last night would just like to say, "Thank you, Elton. And take care of yourself."
ELTON JOHN, FAREWELL YELLOW BRICK ROAD TOUR
Elton John's remaining New Zealand concerts have been rescheduled to 2021 as follows:
Friday 15 January 2021 – Mt Smart Stadium
*Moved from Wednesday 19 February 2020 (previously Tuesday 18 February)
Saturday 16 January 2021 – Mt Smart Stadium
*Moved from Thursday 20 February 2020