Graham Reid | | 3 min read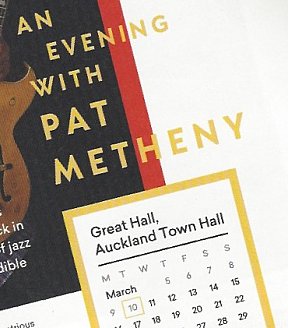 The exceptional American guitarist Pat Metheny played one of those gig which jazz aficionados love . . . and those who don't "get" it just hate.
I fell between the two.
But first let me tell you about just getting to the gig because that may have some bearing on what and how I experienced it.
Before the show at the Auckland Town Hall as part of the Auckland Arts Festival, I had a late afternoon meeting at the far end of Karangahape Rd, about a 15 minute walk from my bus stop.
This is what I learned: that if you miss the lights at the first pedestrian crossing they are syncronised so that you miss every subsequent one. The 15 minute walk became 20, and then it rained.
I arrived late because the bus had been late and then of course the lights, the lights, the lights . . .
The meeting went right up until 8pm (the "pm" being Pat Metheny, his start time) but I went out onto K Rd sure in the knowledge I could hail a taxi, they cruise up and down there all the time.
But no they don't.
I guess in these days of Uber the curb crawling cab is a thing of the past so rather than call an Uber I hopefully walked back down the road – the lights! the lights! – and finally got on a bus which took me the two stops down Queen St to drop me at the door of the Town Hall.
It was now about 8.25, the box office where my ticket was waiting had closed and . . .
Fortunately one of the Live Nation people saw me and got me in, and I was right there in the front row.
Perfect, except I had arrived just in time for the drum solo.
I'm of the opinion that there are very few good drum solos . . . but fortunately this, by the superb Antonio Sanchez, was among them.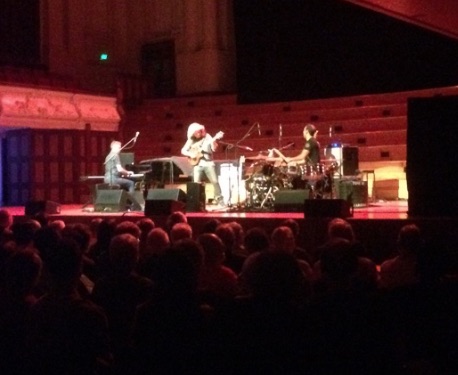 His work was melodic, changed emphasis and accent, and never resorted to showcasing.
Then Metheny stepped up and, seemingly channeling the spirit of Jim Hall in his fluidity, picked up the tune. I had the same rictus grin then as Metheny had most of the night.
He looked like he was enjoying himself although with his stork's nest of frizzed greying hair when his head was down, as it often was, it was impossible to see his face. And that was even if you were in the front row.
Metheny had an appealingly informal and casual stage presence, from the boho-casual jeans and sneakers to his reliance on remarkably few guitars given the breadth of sounds he covered.
This was jazz for aficionados, made more so by the fact he barely spoke a word – unless he did the usual "Good evening Auckland, are you having a good time?" before I arrived, and that was unlikely.
In fact, it wasn't until about halfway through that he said they had just played some of their most well-known material. Not that we might recognise it because this was jazz and tunes like Last Train Home and Letter From Home from 30 years ago were given considerable overhauls.
His group of Sanchez, upright bassist Linda May Han Oh and pianist Gwilym Simcock were extraordinary and across the evening he engaged in wonderful duets with each.
And he deployed guitar synth as expected, but perhaps not as much as he might have given his affection for that technology.
This was all excellent, a virtuoso display of melodic invention and time changes, soaring passages and intimate moments, especially in the pieces with Han Oh and Simcock.
But after I shifted to a seat up the back to consider how others were seeing this, it was a very different experience.
Metheny was a more remote figure – literally and metaphorically – and I couldn't help notice how much more muted the response there was after the solos.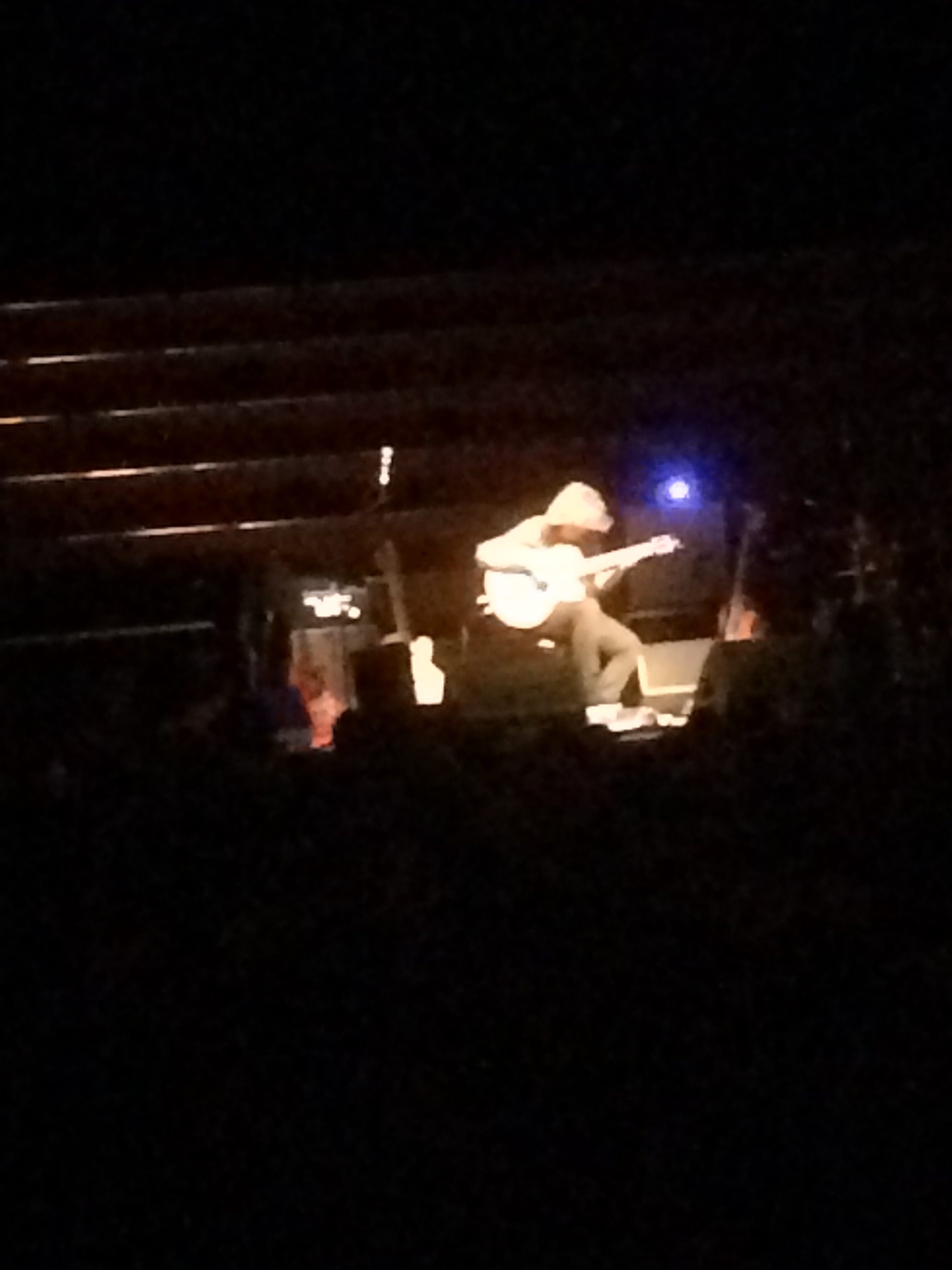 Firm applause for sure, but more brief than when down the front.
Middle-aged women – more than a few visible in front of me – leaned their heads in their partner's shoulders.
For many the music – great though it might have been – just played on and became more and more undifferentiated.
That Metheny chose not to introduce songs is entirely his right – if it's good enough for Dylan and Davis? – but it did have a further distancing effect.
No one would deny the genius collected on that stage, but it started to diminish in the translation as the concert rolled past the very generous two hour mark.
Towards what I took to be the end – a solo acoustic piece which seemed to me to be built on endless finishes which then morphed into another coda – I took my leave of the packed Town Hall because it had been a long day and I'd heard what Pat Metheny and his excellent band could do.
So I don't know if he paid any tribute to his late friend and collaborator Lyle Mays – someone later told me he didn't – and that seemed a little odd. Maybe it was in the choice of that older material?
So there it was: jazz of the kind which aficionados love and can immerse themselves in, and jazz of the kind which some people hate for the sense of self-absorption it projected. Much like this "review"?
I went outside . . . and hailed a curb-crawling taxi within a minute.