Graham Reid | | 1 min read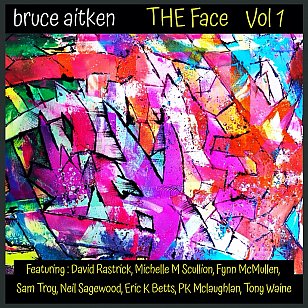 Although he grew up in Invercargill and Wellington, drummer Bruce Aitken's career has largely been off-shore so his name is barely known here outside of musicians' circles.
After playing in bands here from the Sixties into the Eighties he started to move, physically and musically: Sydney to Afghanistan and as a longtime resident in Nova Scotia; touring with the Irish Rovers and playing at various drum festivals, moving from rock and pop to free form . . . and now this late-career debut album.
Given that free-range career it should come as no surprise that the eight pieces on this collaborative collection slide effortlessly between genres but at core rejoice in the unexpected and experimentation.
The opener The Effects of Days Ending in Y comes on a like a funky New Orleans band (trombone, trumpet) but The Ivory Coast which follows (with Michelle Scullion on flute) steams with tropical warmth and is tickled by Aitken's drum part which – if isolated – could exist in the zone of exotic free jazz. However the quietly dramatic and repeated synth string part takes this into a more brooding location.
The carefully measured 14-minute Prequel to the Sequel is also underpinned by Aitken's delicate rhythmic drive behind the gently coiling saxophones and includes samples of what sound like cellphones and R2-D2.
Settle in for toucans, bells and beeps on the percussively busy May the Code Be With You Morse (with morse code of course).
What keeps your interest aside from Aitken's work and how the many guests rise to the challenges – a smidgen of harmonica blues on The Metal Detector – on such diverse material is the wry humour at work.
This is serious, but not po-faced (the samples undercut any pretension) and improvised music often doesn't sound like quite this much fun for the listener.
The Face Vol 1 is part of a projected series of albums – the second Once Upon a No Name Vol 1 already recorded and due for release in a week – so here is journey worth signing on for.
From the terrific music and diversity here it is going to be a thoroughly enjoyable and surprising ride.
.
You can hear and buy this album at bandcamp here.
For more on Sydney-based Bruce Aitken's career and this album project, see Gary Steel's interview at Witchdoctor.