Graham Reid | | 1 min read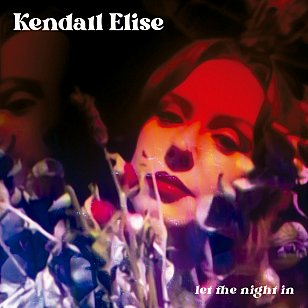 From time to time Elsewhere will single out a recent release we recommend on vinyl, like this one (which comes with a full lyric sheet insert and a download code).
Check out Elsewhere's other Recommended Record picks . . .
.
We have been very keen on Auckland singer-songwriter Kendall Elis to the point of interviewing her when her debut album Red Earth arrived, and then again for this one when she answered some more personal questions, and her answers were very interesting.
Although nominally along the folk-country axis (she's nominated for the second time in the Country Music Awards for Between Hello and Goodbye here), Elise again extends her musical palette into a soulful torch ballad (I Want), a vigorous rockabilly rejig of the old Chinn-Chapman/Suzi Quatro song You're Mama Won't Like Me, the fragile acoustic ballad Who Kissed Who and the jangly, driving pop You Gotta Be a Little Mad which hits a midpoint between Grace Slick and Stevie Nicks.
And it's not often you expect to hear "existential dread" in any lyric, let alone in the Anglofolk ballad A Kingdom here.
There is folk-country (Honest Hand, Something's Gotta Give) but when Elise explores mystery – as on A Kingdom and the slow, enigmatic Make You Shine -- she once more neatly steps past expectations based on those award nominations.
She's something more than country.
.
You can hear and buy this album at bandcamp here. It is available on vinyl at selected record stores.