Graham Reid | | 1 min read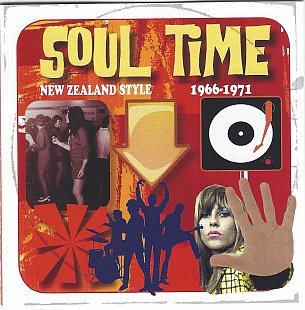 Even the PR for this 32-song compilation admits there wasn't much of a dedicated "soul scene" in New Zealand during the years covered.
New Zealand musicians certainly covered soul songs, but very inconsistently and perhaps our best interpreters were in the Maori showbands who were mostly off-shore.
However the influence of black American soul – on the evidence here, mostly of the raw Southern style out of Stax than the more smooth pop kind from Motown in Detroit – was certainly evident, and of course the influence of the UK r'n'b/soul scene also trickled through.
But while this collection might seem to work from an unpromising premise, there are some excellent and unexpected songs here.
The opener is the title track sung by Sandy Edmonds who -- according to her manager Phil Warren "couldn't sing a bloody note" -- shapes up passably on a kind of psychedelic soul-rock from '68.
Between Edmonds and the Pleazers right at the end with Otis Redding's Security as garageband-cum-psychedelic rock (from '67) we – the artists and the compiler – took great liberties with "soul".
However there were some strong -- if not always persuasively "soul" -- voices who came through, notably Ray Woolf, Larry Morris, Kevin Borich of the La De Das (Otis' Respect), Murray Grindlay in the Underdogs (See Saw) bassist Billy Karaitiana (on his only solo single Pains of Love) . . .
There are also some smart arrangements for horns here (the Librettos' Rescue Me, Johnny Devlin's otherwise lame'n'pained ballad Hurtin'. Max Merritt and the Meteor's much better Western Union Man) and Renaissance take Booker T's Green Onions at a bit of pulse-race pace (horns instead of guitar in that distinctive solo passage).
You suspect if someone had placed a calm and guiding hand on his shoulder, Tommy Ferguson could have really done the business. But often local artists were inviting comparisons they couldn't win (Nash Chase on Brenton Wood's Gimme Little Sign, singer Fred Bower of Le Frame on James Brown's Man's World).
Leo DeCastro's Funky Street surprisingly went unreleased at the time but it frontloads a lot of energy and gets out of there after 90 seconds of dancefloor killer. It's edging up there with Land of 1000 Dances.
So over the 80 minutes there is a lot to enjoy or be surprised by . . . and then there are the songs you wonder just how close to "soul" they come.
But on a countback, this gets over the line and spotlights some damn fine voices and local versions of soul.
For more on Frenzy's extensive catalogue see their Facebook page