Graham Reid | | 1 min read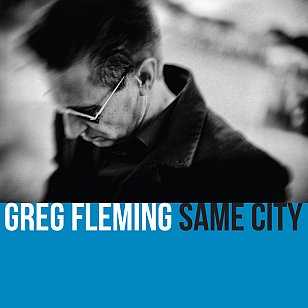 For over a decade, Auckland singer-songwriter Greg Fleming has brought a focused, observational eye to his lyrics.
Although also a working journalist, Fleming is more akin to a photographer capturing stark images where his subjects are the hard working, downtrodden, the greedy among us, Auckland as a character in itself, blended families and tested relationships.
These real life stories – woven into tight songs by guitarists John Segovia and Andrew Thorne, keyboard player Nick Duirs, drummer Wayne Bell, bassist Mark Hughes and others – are in that lineage of Townes Van Zandt, Lucinda Williams, Steve Earle, James McMurtry and Gretchen Peters.
His Same City album returns to some established territory: the nightshift at the service station (Gas, Coffee, Cigarettes and Gum); the solo acoustic country-blues of Heartbreak Business; and a woman returning to see her dying mother on the grim Lucille's Gotta Go Back Home, Lucille an emotionally damaged figure from previous songs now caught up with again.
The title track (same city with you/without, thoughts prompted by the glimpse of a former lover) and Tourists for a Day– with the line which could be his precept, "capture the moment" – reflect on the various moods of a hometown seen differently, which lockdown has invited.
Mostly Same City seems a quieter, less acerbic but still acute Greg Fleming, and while some may find his sandpaper voice broadcasts on a narrow bandwidth, it's that worn-down quality which brings authenticity to this new installment from one of the country's most consistent, incisive songwriters.
.
Greg Fleming's Same City is available on Spotify here.
For more on Greg Fleming at Elsewhere (including reviews, interviews and his own essay on the creative process) see here