Graham Reid | | 1 min read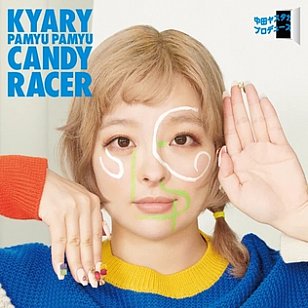 Elsewhere would not pretend to understand even 1% of what goes on in the work of Japanese pop star Kyary Pamyu Pamyu.
But our attention was drawn to her a few years back by a pre-teen and the video clips she showed us were . . .
Hilarious, strange, disturbing and very kitschy hi-tech.
Some of her songs were also annoyingly catchy hyper-real pop.
We were so taken with her – the music, the videos, the whole Harajuku kawaii culture of dressing up, the mad manga look – that we did some research and actually wrote about her.
She is now 10 years into a highly successful career (a lifetime in Japanese idol culture) and at 28 seems to have hardened up her sound – or at least her producer/writer Yasutaka Nakata has – because this new 11 song album takes off at a frantic electrobeat pace where she seems almost incidental to the driving dancefloor ethic at work.
Four tracks in we come across the cutesy pop of Kamaitachi which reflects back to her earlier incarnation, and that remains close for the New Wave electropop of the bouncy Gentenkaihi.
The final third is more electro-pop with the emphasis on the pop.
This is glistening stuff (Kimigaiinekuretara) which cries out for more of her mad video clips but unfortunately this time out they are less outrageously funny than in previous years.
No matter, this is utterly disposable dancefloor pop from a Japanese star who was scheduled to play Coachella this year.
Think on that.
.
You can hear this album at Spotify here