Graham Reid | | 1 min read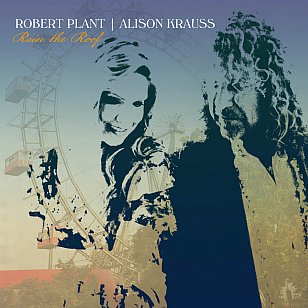 Aside from the unexpected nature of Robert Plant and Alison Krauss coming together for the Raising Sand album in 2007 was the fascinating selection of material they covered: songs by Everly Brothers, Gene Clark, Tom Waits, Townes Van Zandt, blues . . .
That they, the band and producer T-Bone Burnette shaped this diverse material into a cohesive whole made for one of the best albums of that year (and which scooped up six Grammys).
A real repeat-play keeper.
Magic like that rarely happens twice but here again they employ a similar tactic: songs by Calexico (Quattro: World Drifts In as a scene and mood setting opener), the Everly Brothers (Price of Love given an airy reading), Merle Haggard (the bleak Going Where the Lonely Go which is a standout for Krauss), Bert Jansch (It Don't Bother Me), Allen Toussaint (the excellent Trouble With My Lover taken as a steamy swamp trot), Bobby Moore and the Rhythm Aces (the soulful r'n'b Searching For My Love) and way back to the mysterious Geeshie Wiley (her Last Kind Words Blues given a faithful musical setting if shifted into white country).
There's also the original High and Lonesome (swirling orchestration matching the mood), Can't Let Go (associated with Lucinda Williams, who sings backing vocals on Someone Was Watching Over Me) and English folk singer Anne Briggs' Go You Way.
And all these songs of diverse origins (old blues, country, Anglofolk, Chess r'n'b and more) have Burnette back again bringing his astute ear to once more weave these into a coherent soundscape.
This is a worthy sequel (14 years on) to Raising Sand, although the album title promises more party than the duo deliver on a collection which once again mostly turns down the mood (the gritty Somebody Was Watching Over Me, and Williams' You Can't Rule Me in the bonus tracks excepted).
The effect however is to elevate the harmonies, solo turns and the craft of the band which includes guitarist Marc Ribot, drummer Jay Bellerose and bassist Dennis Crouch back again, with guitarists David Hidalgo, Buddy Miller and Bill Frisell (and others) joining the sessions.
Even though this can't have the same frisson of surprise as Raising Sand, this is bound to be in many best of lists this year.
.
You can hear this album at Spotify here