Graham Reid | | <1 min read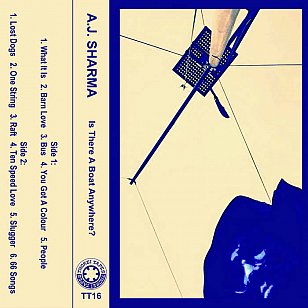 Hamburg's Thokei Tapes (yes, actual releases on cassette tape) continues to unearth and archive small corners of New Zealand music, here the lo-fi alt.folk/indie sound of singer-songwriter Aaron Sharma recorded in various South Island sites in 2018-19.
Sharma is an aural documentarian of his life and feelings (Bus, Slugger) and we'd concede immediately that his uneven vocal style and these cheap recordings will be a challenge to most, although the distorted sound of the brief instrumental Lost Dogs and then One String which open the superior second side is perhaps of more interest to indie.rock listeners.
Here too are songs which seem more complete (Raft, the throbby Ten Speed Love) but again we note that this is selective about its audience.
.
For more on Thokei Tapes releases covered at Elsewhere start here.
.
You can hear and buy this cassette tape at bandcamp here. Buying the cassette gets a download of the album, download not sold separately.