Graham Reid | | 2 min read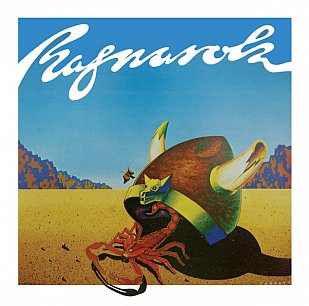 Bo Nerbe, who has run his tiny record shop Got To Hurry since 1983 in Stockholm's old town, takes a step back in alarm when I mention the band Ragnarok.
The only Ragnarok he knows are the aggressive Norwegian black metallers of that name who are into satanism, death cults, Norse mythology and extreme volume. Their new bassist is Hellcommander Vargblod.
Nerbe is relieved when I tell him about the excellent New Zealand prog-rock band Ragnarok who arrived in the mid-70s with their self-titled debut album steeped in Nordic myth and synthesisers, and fronted by the powerful vocals of Lea Maalfrid.
This is Nerbe's kind of music.
The catalogue of New Zealand prog-rock albums is meagre – it was an expensive idiom – and the shortlist of good ones even smaller.
Many would argue Ragnarok – who grew out of glam -- were, briefly, the best.
Maalfrid went solo six months after the album's release (becoming a successful songwriter in London, Los Angeles and Nashville) but the group – Andre and Mark Jayet, Ross Muir, Ramon York – recorded a second but lesser album Nooks in 76.
But that was it.
The band broke up and the punk/New Wave movement quickly relegated Ragnarok to a footnote, expansive prog-rock being derided by the phlegmatic young upstarts.
However, down the decades many would acclaim that debut which kicked into life with the still thrilling and dramatic Fenris.
Now, thanks to archivist Grant Gillanders, Ragnarok has appeared again,remastered from the original tapes recorded at Auckland's Stebbing Studios.
In the past two decades prog-rock has enjoyed renewed acceptance throughSteven (Porcupine Tree, Blackfield) Wilson, The Mars Volta and Tool who marry musical expansiveness with hard rock and conceptual narrative.
The enduring popularity of Pink Floyd suggests there's always been an audience for this often-ridiculed genre. And the time seems ripe for renewed interest in Ragnarock.
Scandi-stuff – from the noir novels through the popular Netflix series' Vikings (a new series out now), Northmen and the parody programme Norsemen to the success of the Thor movie franchise – is hip from television screens to tattoo parlours.
Talkin' 'bout the runes, bro.
Ragnarok's album combines overt references to Norse mythology (Fenris the wolf, Rainbow Bridge which is the connection between this world and the home of the gods, the closing soundscape of Dawning Horn) but just as often offers dreamy prog (the weary Butterfly Sky with its refrain "all my days are gone").
Crafted, intelligent, melodic, mercifully concise songs . . . It's 70s prog Jim, but not as you dismissed it.
So there it is, the return of Ragnarok – the locals not those irascible Norwegians -- after 47 years. I'm sending a copy to Bo Nerbe.
Of course, this long-overdue recognition might have started sooner if that local boy Taika had just thrown Fenris or Fire in the Sky into the soundtrack of his blockbuster Thor: Ragnarok, right?
Ragnarok is available now on limited edition vinyl and as an expanded CD with tracks by the pre-Ragnarok groups Transformer and Flying Wild, plus live tracks and b-sides.