Graham Reid | | <1 min read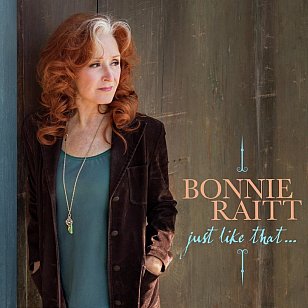 Artists like 72-year old Bonnie Raitt – here on her 18th studio album – set themselves a high threshold. We come to their albums confidently.
Raitt's new album opens with Made Up Mind where she extends herself into yearning soul, later we encounter edgy Stones-like riffing on Livin' for the Ones "that didn't make it" prompted by the passing of close friends, her cover of Toots and the Maytals' Love So Strong isn't especially persuasive but the title track's storyline shifts unexpectedly and loss finds reconciliation.
Her slide guitar is to the fore as longtime followers would wish, she retains that sensual heart-on-sleeve persona (the blues metaphors on the funky Here Comes Love with an Afro-Cuban solo from keyboard player Glenn Patscha) and on the closer Down the Hall she's like Nebraska/Tom Joad Springsteen telling a prison narrative with a social conscience.
Just Like That doesn't deliver as many aces as her 90s albums, but loyalists can come here confidently.
.
You can hear this album on Spotify here.
There is a considerable amount about Bonnie Raitt at Elsewhere including interviews: see here.